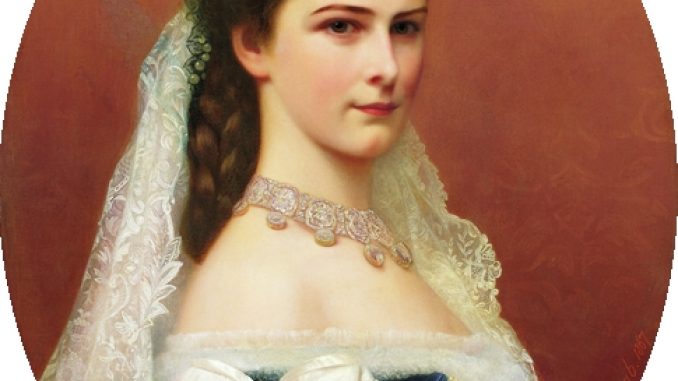 What use the solitary tear?
It merely dims my sight
A remnant of the olden times
Left behind my eyes
You ancient, solitary tear
Dissolve
Now, too. – Sisi
While on Madeira, Elisabeth led a quiet and solitary life in a villa by the sea. She spent most of the days with her animals and playing cards. Soon she was gripped by wanderlust commenting, "Every ship I see sailing away fills me with the greatest desire to be on it." After six months away, Elisabeth saw her husband again in Trieste in May 1861. They returned to Vienna where it took only four days until Elisabeth's symptoms returned. The Foreign Minister wrote, "Since her return, the Empress has the deepest aversion to any kind of nourishment. She no longer eats anything at all, and her energies are exhausted all the more as the cough persists and severe pain robs her of the sleep that might still be able to keep up her energies."
In June, she was diagnosed with galloping consumption and was advised to travel to Corfu. The prognosis was rather poor, and the family believed that they would not see her again. Sophie wrote in her diary, "Sad parting from our poor Sisi, perhaps for life. She wept and was extremely emotional and begged my forgiveness in case she had been to me as she should have been." She was joined in Corfu by her brother-in-law Max and her sister Helene also made the journey to Corfu. In the winter, Franz Joseph allowed their children to go to Venice where they could meet with their mother. After nearly a year of being in Corfu and Venice, Elisabeth travelled on to Reichenau an der Lax and then to Bad Kissingen to take the cure. Her feet had become very swollen and she could no longer hike. She was now diagnosed with dropsy. While there, she improved quickly and was soon back to walking and hiking. She still did not want to return to Vienna and instead went to her family home of Possenhofen. Shortly before her husband's birthday in August 1862, Elisabeth suddenly returned to Vienna without giving much notice. Franz Joseph wrote to his mother, "How happy I am to have Sisi with me again and thus finally, after doing without for so long, to possess an 'at home.'" Elisabeth had changed during her time away and had become more self-confident.
The return of Elisabeth's health also meant that pressure was increased on her to produce more children. Franz Joseph wanted a second son to secure the succession, but the physician believed there could be no mention of a pregnancy and still recommended regular stays at Bad Kissingen. Elisabeth returned to hiking and horse-riding and often refused all company. But now she at least appeared at official functions. Her two children Gisela and Rudolf were growing up, and Rudolf was given his own all-male household at the age of six. He was, however, not the physically strong soldier Prince his father had wished for and the young boy was drilled to exhaustion. Elisabeth felt that there was nothing she could to prevent his upbringing, and after a year of this, Rudolf was seriously ill. It was only then that Elisabeth took action. She later said, "When I learned the reason for his illness, I had to find a remedy; gathered up all my courage when I saw that it was impossible to prevail against this protégé of my mother-in-law, and told everything to the Emperor,  who could not decide to take a position against his mother's will – I reached for the utmost and said I could no longer stand by – something would have to happen! Either Gonderecourt (the man educating Rudolf) goes, or I go!"
Franz Joseph finally capitulated, and Rudolf was given a thorough medical examination. Then Elisabeth appointed a new tutor for him. Little Rudolf began to flourish, but anxiety attacks would remain with him for the rest of his life. The military exercises were reduced to basic exercises, shooting and riding. Despite her victory, Elisabeth still left Vienna under the pretext of another illness but returned just in time for the new year. Her rare appearances at court were always the talk of the day. Her great beauty was mentioned, though Elisabeth always felt self-conscious about her bad teeth. Her hair grew down to her heels, and she usually had it braided on top of her head. She washed it every three weeks with changing mixes of essences, though cognac and egg were a favourite of hers. This took up an entire day, while the daily braiding took up to three hours every day. As she grew older, she struggled to hold on to her looks. She had nightly face masks with raw veal and warm olive oil baths. She often slept with damp cloths over her hips and drank a mix of egg whites with salt every day. She had herself laced into her dresses, which often took an hour, for the desired narrow waist. Her beauty perhaps shone brightest at her coronation as Queen of Hungary with newspapers reporting, "The appearance of the Queen here at  the holy site produced a deep and lasting impression."
Shortly after the Hungarian coronation, Elisabeth decided that she was ready for another child. She fell pregnant almost straight away and gave birth just ten months after the coronation to a daughter named Marie Valerie. Elisabeth was determined that things should be different this time. She would raise Marie Valerie and not her mother-in-law. She later told a lady-in-waiting, "Now I know what happiness a child brings – now that I have finally had the courage to love her and keep her with me."1