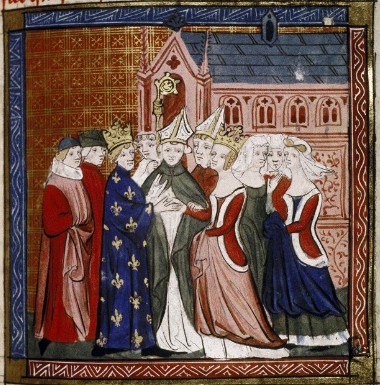 On this day in 1204, Eleanor of Aquitaine died in Poitiers at the age of 81/82. Quite an age for the time!
Eleanor was the oldest child of William X, Duke of Aquitaine and Aenor de Châtellerault. In 1130 her younger brother William Aigret died at the age of 4 and Eleanor became the heiress presumptive to the Duchy of Aquitaine, which at the time was almost one-third of the current size of France.
Her father died on 9 April 1137 making her the Duchess of Aquitaine at the age of approximately 12. This also made her a very eligible bride. Since kidnappings were not uncommon at the time, her father had made a will that appointed King Louis VI of France as her guardian. Louis VI decided to marry Eleanor to his son and heir, later Louis VII. They were married three months later on 25 July in Bordeaux. However, the Duchy of Aquitaine would not automatically merge with France. This would only happen when their oldest son became both King of France and Duke of Aquitaine. That same year Louis VI died, and Eleanor became Queen of France as the consort of Louis VII.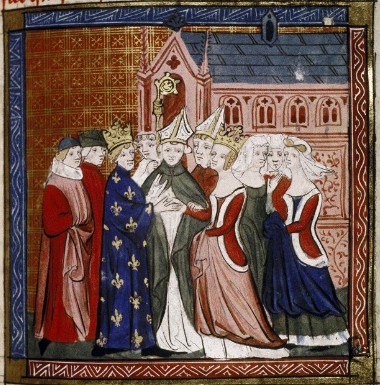 Wedding of Eleanor and Louis
The marriage was not a great success. Louis VII was a pious man; he had been intended for the church before his older brother died. In 15 years of marriage, the couple had two children, both daughters, who were ineligible to inherit the French throne. On 21 March 1152 their marriage was annulled on the grounds of consanguinity within the fourth degree (they were both descendants of Robert II of France). However, their daughters were declared legitimate.
Again, Eleanor was in danger of being kidnapped as she travelled to Poitiers. When she arrived there, she sent envoys to the future Henry II of England to ask him to marry her. They married a mere eight weeks later. Surprisingly, Henry and Eleanor were even more closely related. In 1154 they became king and queen of England. Over the next thirteen years, Eleanor and Henry had five sons and three daughters. Apparently, it was quite a tumultuous marriage, with Henry having numerous affairs.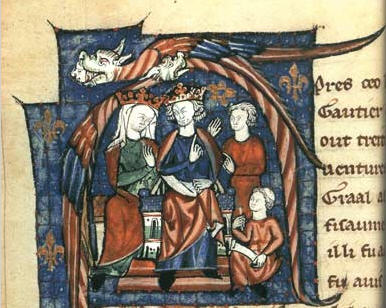 In 1173 her eldest surviving son Henry revolted against his father. It is said that she incited his younger brothers to join in the revolt. Eleanor was arrested for this and taken either to Winchester Castle or Sarum Castle. She was imprisoned for the next sixteen years, and she was moved around a lot. She was released on special occasions. Her son Henry died in 1183 of dysentery.
Her husband died in 1189 and was succeeded by her son Richard. Richard ordered Eleanor to be released, but upon his arrival, her custodians had already released her. She ruled as regent while Richard was on a crusade. She survived Richard and lived to see the reign of her youngest son John.
Eleanor became ill in 1200, but she recovered. Eleanor took the veil as a nun at Fontevraud Abbey in 1201. She died in 1204 and was entombed in the Abbey next to her husband Henry and son Richard.
Of course, much more can be written about this amazing women. I would like to recommend Eleonore van Aquitanië by Guus Pikkemaat (Dutch) and Eleanor Of Aquitaine by Alison Weir
. I also really enjoyed The Lion In Winter (2003)
film. Seriously, go watch it!