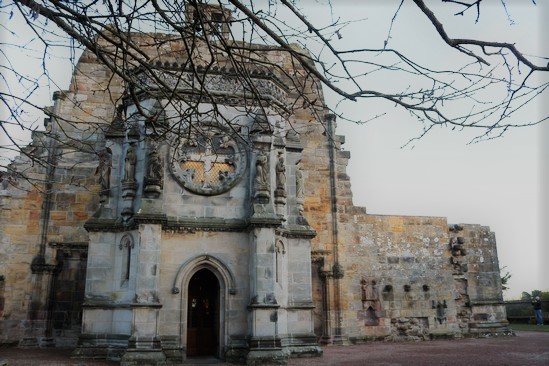 One can sometimes find royal women in places you least expect it. While in Edinburgh, we also visited Rosslyn Chapel in Roslin, which was made famous by its appearance in the Da Vinci Code film. We were just casually strolling through the gardens when I spotted this. Who was this mysterious Princess Dimitri?
I married all my husbands for love. I certainly didn't care about titles, and none of them had any money.
Sheila Chisholm was born on 9 September 1895 as the daughter of Harry Chisholm and Margaret Mackellar in Australia.In 1914, Sheila travelled with her mother to Europe on board the SS Mongolia.1 She and her mother were presented at Buckingham Palace by Lady Samuel.2 Shortly thereafter, the First World War began. They decided to remain in London for now but left for Cairo not much later to be near Sheila's brother John, who had joined the Australian Expeditionary Forces.3 Sheila and her mother began to care for the wounded that returned from the war, even though her mother thought she was too young and delicate.4
While caring for the wounded, Sheila met the man who would be her first husband, Francis St Clair-Erskine, Lord Loughborough, heir to the 5th Earl of Rosslyn. He too had been wounded.5 Sheila recorded in her memoir, "He told me he had fallen in love with me at first sight. He constantly said: 'I love you and you are going to marry me, you will like England and all my friends will adore you.'" Their engagement was announced on 20 July 1915 and they married on 27 December in Cairo. 6 They left for England the following year. She would soon become aware of her new husband's gambling problem. Despite their troubles, Sheila was soon pregnant and she gave birth to a son named Anthony on 17 May 1917.7 A second son named Peter was born on 30 October 1918.8 Two weeks later, the war was finally over.
Despite the births of their sons, their marriage continued to disintegrate. Her husband drank too much and still gambled. Sheila described it as, "living on the edge of a volcano."The breaking point came when he threatened her with a gun, saying it would be easier if they were both dead.9 They would still try to fix their marriage, but it would inevitably end up in divorce. In 1924, she had finally had enough, and the couple began living apart.
In 1923, she met the man who would become her second husband, Sir John Charles Peniston Milbanke, 11th Bt. He had jokingly locked her in a cloakroom for over an hour. She had been furious.10 She later wrote, "I loved him, but he annoyed me."11 She was, however, not divorced from her first husband and she had to keep up appearances. On 14 July 1926, they were finally divorced. Her second engagement was announced on 3 November 1928, and they were married 11 days later.12 In 1929, her first husband died by either jumping or falling through a window on the fourth floor.13
The new Lady Milbanke remained at the centre of society. It was a happy marriage, but when Sheila returned from a trip to Australia, he confessed he has been unfaithful. She offered him a divorce, but it did not take place. War again loomed. Her elder son had just recently become Earl of Rosslyn upon the death of her former father-in-law, and her younger son had enlisted in the RAF.14 Sheila once again took up nursing the wounded and it was during one of her shifts that she received the news that her younger son had been killed.15 Whenever she was crying, she would famously say, "I am not crying, there is rain in my eyes."16 Just six months later, her mother also died.17 By then, her marriage was in name only. The war had changed her husband. He died in 1947 after a car accident in Belgium. She wrote, "I felt bewildered and lost without him. I was stunned and utterly miserable."18
Her third husband was a man she had met on and off at various parties. Prince Dimitri Alexandrovich of Russia was a son of Grand Duke Alexander Mikhailovich of Russia and Grand Duchess Xenia Alexandrovna of Russia. He was thus a nephew of Tsar Nicholas II of Russia. Meanwhile, Sheila slowly began to disappear from the society, although she occasionally kept in touch with the Duke and Duchess of Windsor. Prince Dimitri had been married once before to Countess Marina Sergeievna Golenistcheva-Koutouzova, with whom he had a daughter. They divorced in 1947. The Duchess of Windsor orchestrated another meeting between the Prince and Sheila in 1954, and they were engaged not much later. They were married on 29 October 1954; there were just two witnesses.19 It was a marriage of friendship and companionship. She was now known as Her Highness Princess Dimitri.
Sheila had begun work on her memoirs, but she had not written for nine years when she died on 13 October 1969 of a combination of heart failure and lung cancer. She was cremated, and her ashes were spread across the grounds of Rosslyn Chapel.20 Her grandson is the current Earl of Rosslyn.
Read more: Wainwright, Robert Wainright (2014). Sheila: The Australian Beauty Who Bewitched British Society. (UK & US)