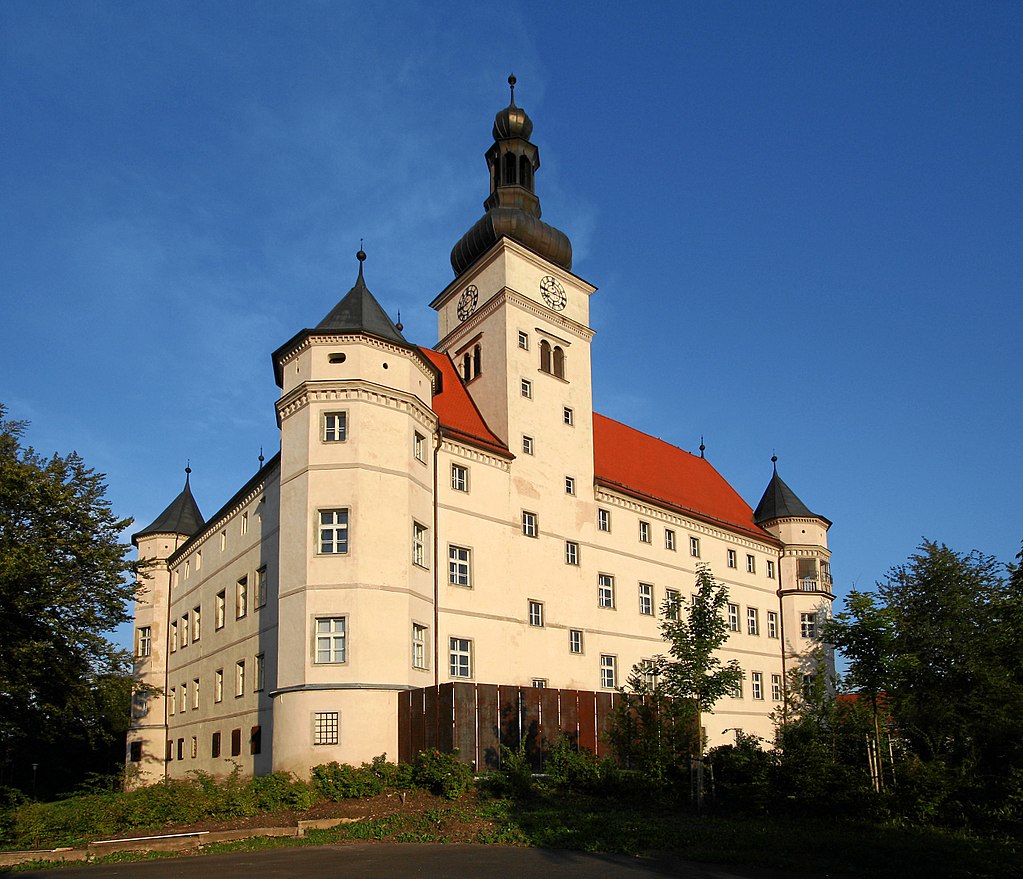 Princess Maria Karoline of Saxe-Coburg and Gotha was born on 10 January 1899 in Pula, in present-day Croatia, as the daughter of Archduchess Karoline Marie of Austria and Prince August Leopold of Saxe-Coburg and Gotha. We don't know much about her life, but we know she was living in a centre for the mentally disabled in Schladming in Austria before she was taken to Schloss Hartheim on or around 6 June 1941. She was probably staying at a separate house belonging to Diakoniewerk, which records that 64 people with disabilities were taken from them to be murdered at Hartheim in June 1941. 1
Schloss Hartheim was just one of the killing centres for handicapped people. It was responsible for institutions in Austria and some in south Germany and Saxony.2 The "destruction of life unworthy of life" was put into practice.3 We do not know exactly what happened to Maria Karoline, but the process at Hartheim is described quite detailed.
Patients were often aware of what was happening and force had to be applied when they were picked up from their institutions and put into the notorious Gekrat buses. In Hartheim, patients sometimes also arrived by train. Local "death buses" would then transport them from the train station in Linz. Patients were then met at reception and were told to undress. Transport usually consisted of either males or females but if both arrived, separate undressing facilities were provided. They were then measured, weighed and underwent a physical examination. This was all to provide the deceptive appearance of normality. The physician would also mark patients who had valuable gold teeth or gold bridges, that could be extracted after death. The patients were then numbered and photographed to show the physical inferiority "for scientific reasons." The naked patients were assembled again so they could be led into the gas chambers, which were disguised to look like shower rooms. At Hartheim, the gas chambers were located on the ground floor and patients moved directly from the examination room to the gas chambers. Once the patients were inside the gas chamber, the staff closed the steel door and made sure everything was hermetically shut. The valve of the compressed gas canister was opened, releasing the lethal gas into the chamber.4
The valve was supposed to be operated by the physician but at Hartheim the gas was administered by Valasta, the senior stoker. Georg Renno, a physician at Hartheim, told post-war interrogators, "I did not study medicine to operate a gas valve." The number of patients differed from time to time. A Hartheim staff member reported, "Once 150 persons were gassed at one time. The gas chamber was so full that the people in it could scarcely fall down, and the corpses were therefore so jammed together that we could pry them apart only with great difficulty."After about five minutues, the patients were unconscious, and in about ten minutes, they were all dead. The staff waited one or two hours before ventilating the chamber. The physicians then pronounced the death and the bodies were removed. They were then piled into a so-called death room, where they could be robbed of their golden teeth and some underwent autopsies.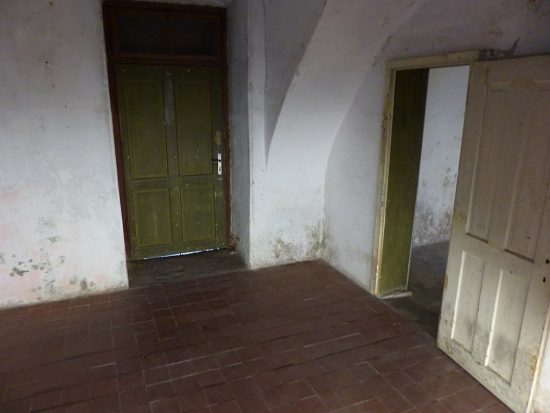 So-called stokers than placed the bodies on a metal pallet, which was pushed onto a clay grill in the crematorium oven. 5 During the years 1940-1941, 18,269 people were killed at Hartheim.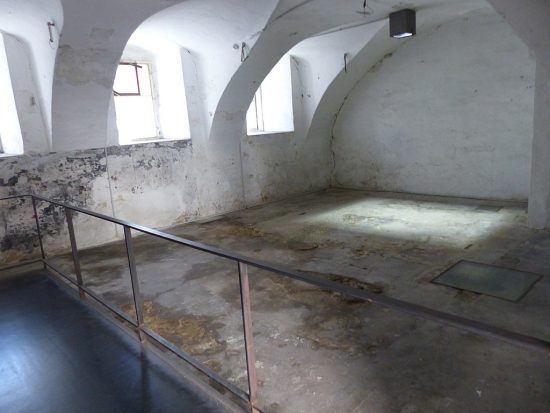 Maria Karoline was probably gassed the same day as her arrival. There is a memorial plaque to her in the family crypt in Coburg, which mentions her exact date of birth and the fact that she was gassed. In June 1941, 1,364 people were gassed at Hartheim. After cremation, ashes were either transported to the Danube or buried in the eastern part of the gardens.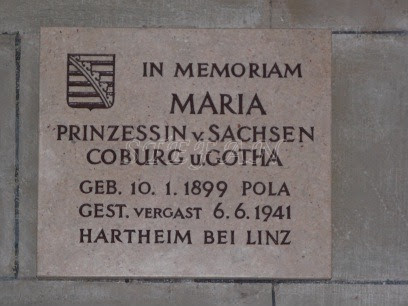 Used with permission from Royal Travel
Maria Karoline's father died in 1922, but her mother was still around when her Maria Karoline was killed. Perhaps she received the letter that informed her that her daughter had died of "natural causes." The so-called condolence letter informed the relatives of the death of the patient but never contained any elaborate explanation. Normally an institute would be expected to ship the body back to the relatives, but since there was no body, relatives were usually informed of the legal requirement to combat epidemics that had required cremation. An urn with ashes could be requested but these obviously never contained the ashes of the deceased. If they had any possessions, these would be "damaged during disinfection." 6
In late August 1941, Hitler ordered a stop to the murder of the handicapped by gas and Hartheim, conveniently located near Mauthausen Concentration Camp, remained operational and continued to gas people from Mauthausen.7