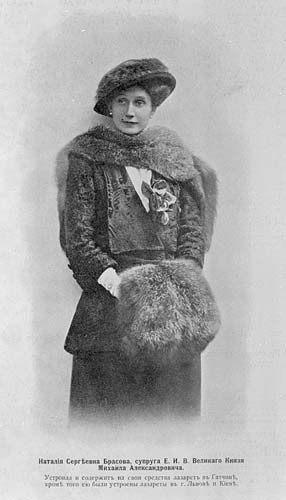 Natalia Sergeyevna Sheremetyevskaya was born on 9 July 1880 (O.S. 27 June) as the daughter of Sergei Alexandrovich Sheremetevsky and Julia Vyacheslavovna Sventitskaya in the outskirts of Moscow. Her parents lived in a rented apartment beside the Kremlin until Natalia was one year old.1 Over the next ten years, the family would move six times. Her father was a successful lawyer, and Natalia was educated by a live-in French governess, and she went to a private day school.2
In 1902, the strikingly beautiful Natalia married Sergei Mamontov. He was a pianist with ambitions to become a conductor. Within a year, Natalia was pregnant, and she gave birth to a daughter named Nathalie in 1903. She was known as Tata in the family. Natalia quickly grew bored of her married life. Sergei did not enjoy going to parties, and Natalia started going out without him.3 Whenever Natalia went out on her own, admirers flocked around her. One such man was Vladimir Wulfert, whom she had known from her school days. Natalia asked her husband for a divorce so that she could marry Vladimir and although Sergei was reluctant, he agreed to a divorce. She now became Natalia Wulfert.4
Natalia would soon discover that Vladimir was not as rich as she thought him to be. Nevertheless, the family employed servants.5 In late 1907, Natalia was introduced to one of her husband's fellow officers, Grand Duke Michael Alexandrovich of Russia, brother of Tsar Nicholas II. At a ball, he invited her to partner him in the mazurka.6 Soon society was buzzing with Michael's interest in Natalia. Natalia was all too aware that she had only just divorced and was still finding a new life in society and any scandal would be blamed on her. However, Michael had fallen hopelessly in love with her.7 During 1908, Michael became a regular visitor to Vladimir and Natalia's apartments. In the beginning, he never invited her anywhere without her husband, and when writing to her, he always added his regards for Vladimir.8
Natalia was also falling for Michael, but she knew she could never be his wife and the idea of being his mistress did not appeal to her. The disgrace of another failed marriage would be too much to bear. In August, he went on an extended trip to Denmark with his mother and Natalia was determined to distance herself from him.9 Michael insisted that she write to him while he was in Denmark and she eventually began writing to him in return.10 When he returned in October 1908, there was no turning back. The scandal was in the making. Vladimir pretended for several months that everything was alright in his marriage, but it did not take long before he could not take it anymore.11 Natalia had refused to share the marital bed and Vladimir became enraged, and he raped Natalia. She promptly announced that she was leaving him and going abroad.12 She fled to Berlin with her six-year-old daughter where both Vladimir and Michael wrote to her often. Natalia had no intention of returning to her husband, and she wrote to him, "Each of your letters is torture to me. I feel ill after reading them and upset for the rest of the day… Your letters torture me as much as you did when I was in Gatchina….you are utterly selfish and think only of yourself…"13 She finally saw Michael again in August 1909 when both travelled to Copenhagen. While there, they slept together and by December it was clear that Natalia was pregnant. Vladimir was bought off with a new post, a large salary but a divorce was not granted until 1910 when Natalia had already given birth to a son. With an additional payoff, the divorce was backdated to avoid any claims by Vladimir on the boy. Her son named George was born on 6 August [O.S. 24 July] 1910.
Michael had been relegated to second in line to the throne by the birth of Nicholas's son Alexei, but the little heir had haemophilia, and so it was still likely that Michael would one day succeed his brother. However, he made it clear that he wouldn't marry Natalia and he also wouldn't marry anyone else.14 For Natalia, the entire situation was a humiliation. She was no longer the respected wife of an officer and society shut her out. They would have to marry; there was no other choice.15 In an effort to prevent his brother's marriage, Nicholas sent the secret police to follow him, but Natalia and Michael managed to shake them off to secretly marry in Vienna. As a commoner, she could not be styled as Grand Duchess and was instead known as Countess or Madame Brasova. Michael wrote to his brother to inform him of the marriage, but Nicholas refused to approve it. Michael was also punished severely, his assets were frozen and he was subject to a guardianship. For the next year, they would be exiles in Europe.16
They returned to Russia the following year upon the outbreak of the First World War. As Michael left for the war, he begged his brother to recognise his son as legitimate so he would not be left with nothing if he died in the war. Nicholas avoided the subject for six months before legitimising him. 17 The boy was known as Count Brasov, but in the event of Michael's death, Natalia would still be left with nothing.18
After the February Revolution, Nicholas, who feared being separated from his son, abdicated in favour of Michael.19 However, Michael was reluctant to accept the crown. The situation was so precarious; he would be damned if he accepted and damned if he refused.20 He refused to accept if it was not the will of the people.21
In the summer of 1917, Michael, Natalia and the two children were placed under house arrest.22 They were released three weeks later.23 By October, it was clear that the family would need to leave Russia, but their escape was blocked. The next year in March, Michael was again arrested, and Natalia was refused permission to see him.24 Natalia began to fear for her son, and she sent her son and his nanny under a false passport to the Danish embassy in Berlin.25
On 13 June 1918, Michael was executed by the Bolsheviks.26 Natalia received a telegram, "Our friend (Michael) and Johnny have vanished without a trace." Natalia was arrested immediately.27 Even Natalia's daughter was arrested, though she was released not much later.28 Natalia managed to escape from custody, and she and her daughter travelled to Kiev on false passports. They were still in Kiev when the First World War came to an end.
It took her several weeks to travel to England, and she arrived there in March 1919.29 Both George and her daughter were sent to school in England. Meanwhile, Natalia still believed she would see Michael again.30 She moved to Paris in 1927, where life was less expensive.31 In 1931, George died in a car crash, and Natalia bought two plots side by side at the Passy cemetery in Paris. One was for George, the other for her.32 The death of George hit her hard. Life meant very little to her now.
Natalia died on 23 January 1952 in a charity hospital in Paris. She was buried beside her son.33