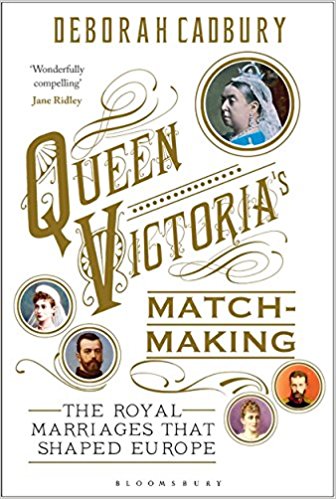 In the late nineteenth century, Queen Victoria had over thirty surviving grandchildren. To maintain and increase power in Europe, she hoped to manoeuvre them into dynastic marriages. In her sights was royalty from across the world. Yet for all their seeming obedience, her grandchildren often had plans of their own, plans fuelled by strong wills and romantic hearts. Her matchmaking plans were only further complicated by their coinciding with tumultuous international upheavals; revolution and war were in the air and after her death, her most carefully laid plans fell to ruin.

Queen Victoria's Matchmaking travels through the most glittering, decadent palaces of Russia and Europe, weaving in scandals, political machinations and family tensions, to enthralling effect. It is at once an intimate portrait of the royal family and an examination of the conflict caused by the power, love and duty that shaped the marriages that Queen Victoria arranged. At the heart of it all is Queen Victoria herself: doting grandmother one moment, determined manipulator the next.
Queen Victoria had good reason to call herself the grandmother of Europe. Several of her grandchildren sat on the thrones of Europe, with or without a little help from Grandmama. Queen Victoria was heavily involved in her grandchildren's lives, perhaps even more than in that of her own children. The book goes through several matches, including some that failed to materialise such as Prince Albert Victor, Duke of Clarence and Avondale and Princess Hélène of Orléans. I very much enjoyed reading the letters that went back and forth between Queen Victoria and her daughter, Victoria, Princess Royal. The only thing that bothered me was the use of nicknames, which will forever remain a pet peeve of mine. For me, it doesn't clarify who we're talking about.
Queen Victoria's Matchmaking by Deborah Cadbury is available now in both the UK and the US.