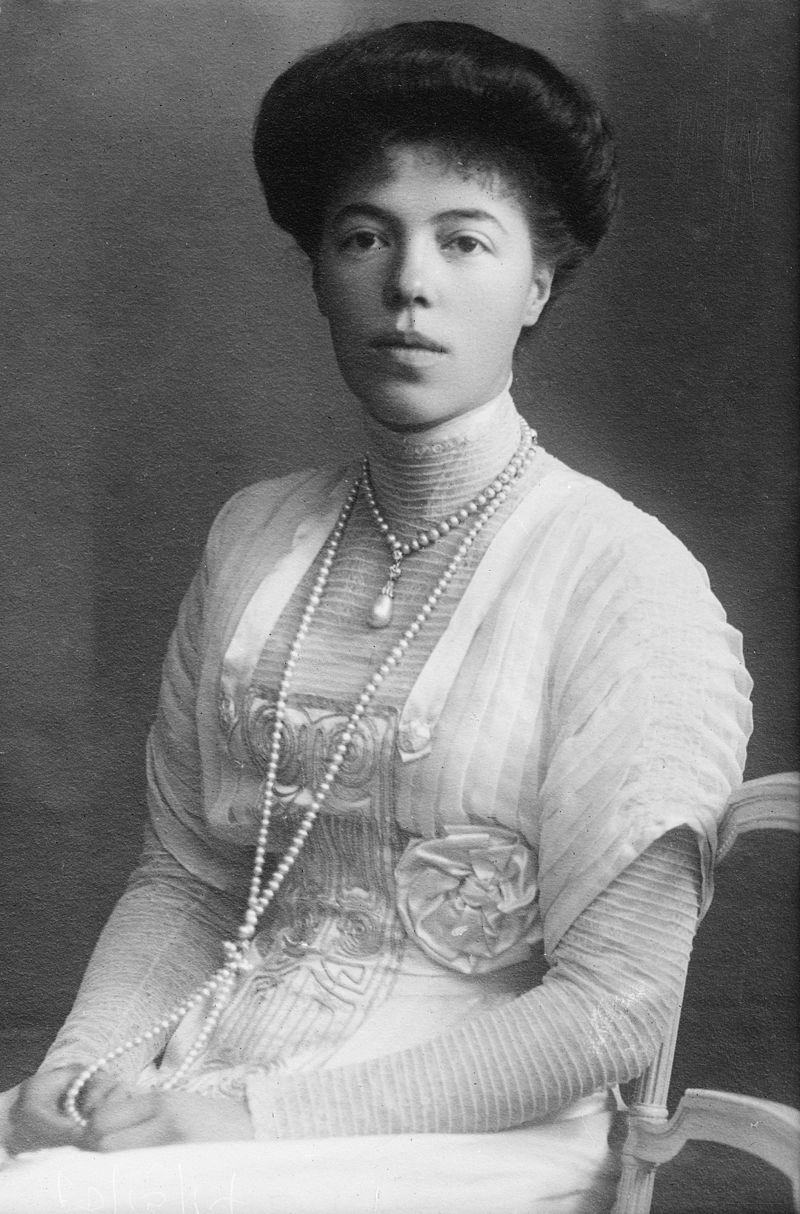 Grand Duchess Olga Alexandrovna of Russia was born on 13 June [O.S. 1 June] 1882 as the daughter of Tsar Alexander III of Russia and Dagmar of Denmark, now known as Maria Feodorovna. She was thus one of the two sisters of the last Tsar of Russia, Nicholas II.
Olga was a somewhat frail and sickly baby, and this was perhaps one of the reasons why she became her father's favourite. He nicknamed her Badger, for her tendency to burrow in earth and snow.1 She was handed off to an English governess named Elizabeth Franklin.2 Elizabeth Franklin became somewhat of a surrogate mother, and Olga never felt close to her mother.3
Olga shared her lessons with her older brother Michael from nine in the morning until three in the afternoon.4 The children grew up isolated from the company of other children. Nevertheless, Olga was a gifted student.5
On six-year-old Olga's first train trip something traumatic happened. As the family sat in the dining car for lunch when the train suddenly came off the rails. Olga was ejected from the train, and she was picked up by a footman. Many people were injured and killed, but miraculously none of the family was killed.6
Every summer, the family would visit Denmark, her mother's country. However, Olga's favourite destination was the villa of Alexandria in Russia, near the Peterhof Palace.7
In 1894, Olga's elder sister Xenia married Grand Duke Alexander Mikhailovich of Russia and just after the death of their father, the now Tsar Nicholas II married Princess Alix of Hesse. Olga was just 12 years old when her father died, and she joined the family in prayer.8 After witnessing the stresses of the coronation of her brother, Olga was reluctant to enter society.9 However, the longer she waited to marry, the more intense the pressure from the family became and impulsively, she chose the wrong man.10
Her choice stunned the family. Her future husband was Duke Peter Alexandrovich of Oldenburg. He was 33 years old, while she was just 19 years old. He was an inveterate gambler and a hypochondriac. It wasn't the best match, but his pedigree was suitable, and Olga could remain in Russia.11 They married on 27 July 1901. Olga wore a white wedding dress with a crimson velvet mantle with ermine fur.12 Peter was thought to be either homosexual and bisexual by the family. 13 After the honeymoon, they moved into a 200-room house in St. Petersburg. However, the marriage soon became unhappy, which they managed to hide from the family.14
In 1904, Olga met Nikolai Kulikovsky and requested a divorce from Peter. Peter replied that he might reconsider in seven years' time.15 Meanwhile, Olga continued to meet with Nikolai and their meetings were becoming less discrete and more dangerous as time went by.16 As a captain with the Blue Cuirassiers, Nikolai was often away for months, and their only contact was through letters.17 At last, Peter allowed Nikolai to move into their home as his personal adjutant.18
Leading up the First World War, Olga occasionally asked her brother about the divorce, but did not press the matter.19 In 1914, Olga left Peter for good and took up nursing to be as close to Nikolai as possible as he served in the army.20 As a nurse, Olga saw much of the suffering of the First World War. Now nearly 35 years, Olga began to ache for children. She continued to prevail up Nicholas to grant her a divorce.21 At last in 1916, she was granted permission for a divorce from the Holy Synod and Nicholas. She married Nikolai on 5 November 1916 in a small dark church.22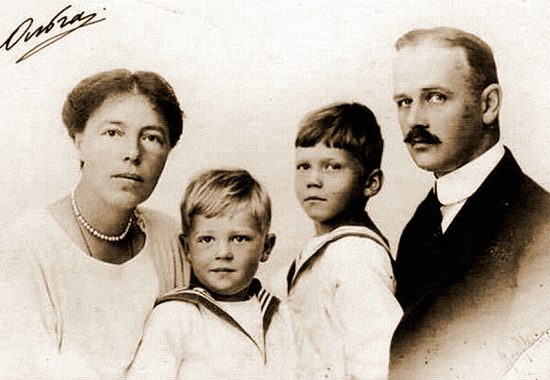 The following year, Nicholas abdicated the throne and Olga fell pregnant with her first child. As the situation worsened, Olga realised that the time to flee had arrived.23 She joined some family members in the Crimea, where she gave birth to Tihon, named after her most beloved saint.24 By the autumn of 1918, rumours began to circulate about the fate of Nicholas and the rest of the family. Once again pregnant, Olga and Nikolai fled on a steamer headed for Novorossiysk.25 Their second son Guri was born in the Cossack town of Novo-Minskaya.26 Finally, they sailed to Constantinople, then onto Belgrade and ultimately by sea to Copenhagen, where her mother and other family members had also arrived.27 On Good Friday 1920, Olga was finally reunited with her mother.28
In Copenhagen, they lived with Olga's mother in a small corner room on the ground floor.29 In 1925, Olga visited Anna Anderson, who claimed to be her niece, the Grand Duchess Anastasia. She said, "My intelligence will not allow me to accept her as Anastasia, but my heart tells me that it is she. And since I have grown up in a religion which taught me to follow the dictates of the heart rather than those of he mind, I am unable to leave this unfortunate child."30
On 13 October 1928, Olga lost her mother. Olga and Xenia were the recipients of her will.31 The sale of the contents of their mother's jewellery box would greatly help Olga financially. Olga bought a 20-room farmhouse north-west of Copenhagen.32 During the Second World War, Olga became a grandmother. In 1948, Olga was asked to leave Denmark. Canada would be Olga's next exile.
The family purchased a farm in Campbellville, Ontario.33 She painted watercolours which she sent to Denmark, where they were sold. By 1951, they sold the farm as the management had become too much.34 They moved to Cooksville, close to their sons. The last decade of her life was marked by the ill-health of her husband, who eventually died in 1958. Olga had now lost her reason for living.
In the autumn of 1959, Olga's own health started to fail. She became highly anaemic and lost weight. On 20 April 1960, Olga's sister Xenia died of a heart attack while Olga's was in the hospital fighting for her own life. The diagnosis was never publicly confirmed but was believed to be cancer.35 Olga died on 24 November 1960.