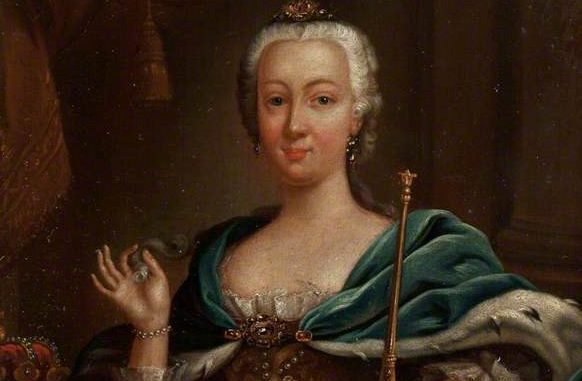 Louise of Stolberg-Gedern was born on 20 September 1752 as the daughter of Prince Gustav Adolf of Stolberg-Gedern and his wife, Princess Elisabeth of Hornes. She was one of four siblings, all girls. She was baptised in the Cathedral of Mons and had the following godparents: Prince Maximilien-Emanuel of Hornes, Prince Frederic Charles, Prince of Stolberg, Alexandrine, Princesse de Croy, who was acting on the part of the Princess Louise of Stolberg (née Princesse de Nassau), and Princess Albertine of Hornes (née Princesse de Gavre). Shortly after the birth of her youngest sister Gustavine, her father died in battle at Leuthen. Her mother, now a widow at the age of 24, received help from Empress Maria Theresa.
This help extended to Louise, who was sent to live and be educated at a school attached to the chapter of St. Wandru in Mons, which was specifically for impoverished noble ladies. Her mother was thankful, but Louise would later not look back to this time with gratefulness. She would accuse her mother of indifference, and she claimed that the education was not so good. Her second sister Caroline-Augusta also attended the school. In 1766, Empress Maria Theresa arranged for the convent to give to Louise one of its endowed prebends. Louise and her sister often left the school to attend assemblies in Brussels, where they both attracted attention. Caroline-Augusta was the first to receive an offer of marriage from Carlos Fitz-James Stuart, son and heir of the Duke of Berwick and a descendant of James FitzJames, the illegitimate son of King James II and Arabella Churchill. This ultimately led to the groom's uncle to contact Louise's mother for a betrothal between her and Charles Edward Stuart, grandson of James II and VII and known as the Young Pretender. James II had been deposed by his son-in-law and daughter, and the succession was eventually settled in favour of a protestant one through the House of Hanover. However, James had also left a son who would continue to press his claim to the throne and his son Charles in turn.
Charles was already 50 years old, but it was desired that he father children to continue the Stuart line of claimants. Ignoring the political complications with Empress Maria Theresa, Louise's mother consented to the match and took the then 19-year-old Louise to Paris where a proxy wedding took place on 28 March 1772. Charles himself was in Rome. A supporter wrote, "She is pretty and young, he strong and vigorous. They may produce a race of pretenders that never will finish, which the French will be always playing upon every quarrel." Charles and Louise finally met on 14 April and a second ceremony took place in a private chapel, and Charles was delighted with her youthful charms and good looks. Louise was not quite so impressed, and she would later know him to be a drunkard with a temper. Their life in Rome began pleasantly, and she enjoyed her high place in society. She would later write, "Women are well off in Rome, the town is beautiful, and there is good society there. It is my favourite of all the places in the world, and how I should love to inhabit it, for the sake of its charming surroundings especially!"
Then a whole year passed without any signs of pregnancy and Charles grew annoyed with his young wife. When a second year passed, his sense of anger increased. After two years of marriage, Charles took his wife to live in Florence. The Grand Duke of Tuscany and his wife ignored all his claims and so Charles began to style himself and Louise as the Count and Countess of Albany. Louise grew more and more unhappy. Even the purchase of their own palace in 1777 could not lift her spirits. Louise also found love in another place – with Count Vittorio Alfieri of Asti. We don't know exactly when their relationship began to grow more intimate, and we don't know how much Charles knew exactly. Charles was already known to be violent with his wife, and he exploded on 30 November 1780, drunkenly attacking Louise in her bedchamber and accusing her of infidelity. Her screams of fear brought servants running to her room, and they saved her from his anger. Louise appealed to Count Vittorio Alfieri, and a few days later, an escape plan was hatched. Louise fled to a convent as the rumour mill ran wild in Florence. She wrote to her brother-in-law, the Cardinal-Duke of York, and she found him sympathetic to her plight. He wrote, "It is enough to say that you may rely on being in good hands, and that I shall never fail openly to admit my protection of you as a duty owing to you in your present situation, since I am perfectly convinced you will be ready to accept counsel and advice I may occasionally give, with no other object in view than that of your own good before God and man."
Louise travelled to the Ursuline convent in the Via Vittoria in Rome where she received rooms once belonging to her mother-in-law, and she was welcomed by her brother-in-law. Count Vittorio Alfieri also travelled from Florence to Naples via Rome. He met with Louise briefly and later wrote, "I came, I saw her (but, O God! my heart seems to break now at the mere recollection of it), I saw her behind a grating, less tortured than in Florence, but for a certain reason no less unhappy. For we were separated, and who could tell how long that separation might endure? And yet I solaced myself amid my tears that here she could at least gradually recover her health, could breathe freer air, enjoy quiet sleep, and no more be trembling for fear of that dire ever-present shadow of her tipsy husband." Louise soon moved from the convent to her brother-in-law's official residence.1
Part two coming soon.