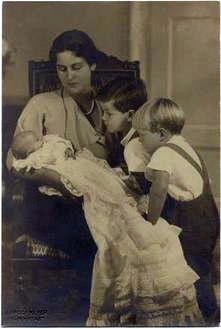 Princess Cecilie of Greece and Denmark (22 June 1911 – 16 November 1937) was the sister of Prince Philip, Duke of Edinburgh. She was born in Tatoi, Greece as the third child and daughter of Prince Andrew of Greece and Denmark and Princess Alice of Battenberg. She usually went by Cécile. She married her first cousin once-removed, George Donatus, Hereditary Grand Duke of Hesse, on 2 February 1931.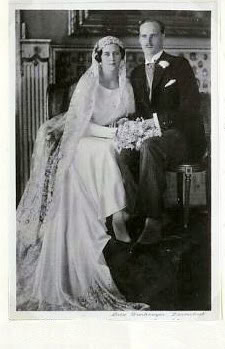 They had four children together:
Prince Ludwig of Hesse and by Rhine  (25 October 1931 – 16 November 1937)
Prince Alexander of Hesse and by Rhine (14 April 1933 – 16 November 1937)
Princess Johanna of Hesse and by Rhine (20 September 1936 – 14 June 1939)
Stillborn son (16 November 1937 – 16 November 1937)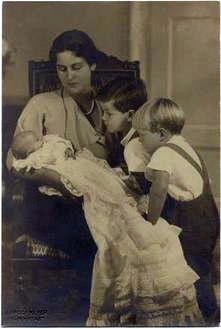 The Plane Crash
In November 1937 Cecilie was eight months pregnant with her fourth child. Her brother-in-law Prince Ludwig was going to marry the Honourable Margaret Campbell-Geddes in London. On 16 November Cecilie, George Donatus, their two sons and George's mother Eleonore travelled from Darmstadt to London. Also on board were Joachim Riedesel Freiherr (Baron) zu Eisenbach, and Lina Henar, the children's nurse.  Near Ostend in Belgium, the plane hit a factory chimney. The wing and engine were ripped away and the plane crashed in flames. All passengers and crew lost their lives in the accident. Tragically, remains of a newborn child were found among the wreckage. It is thought that either Cecilie had gone into labour or that the impact caused such significant damage that the child was born. Either option sounds absolutely horrendous.
The flight was scheduled to stop at Brussels, but bad weather forced them to continue on to Ostend, Stene Airport.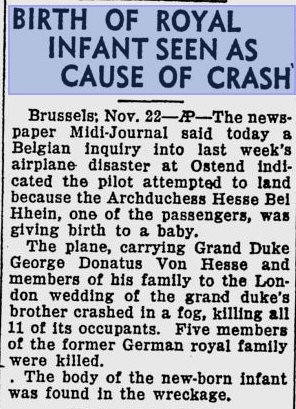 Birth of royal infant seen as cause of crash
A Twelfth Victim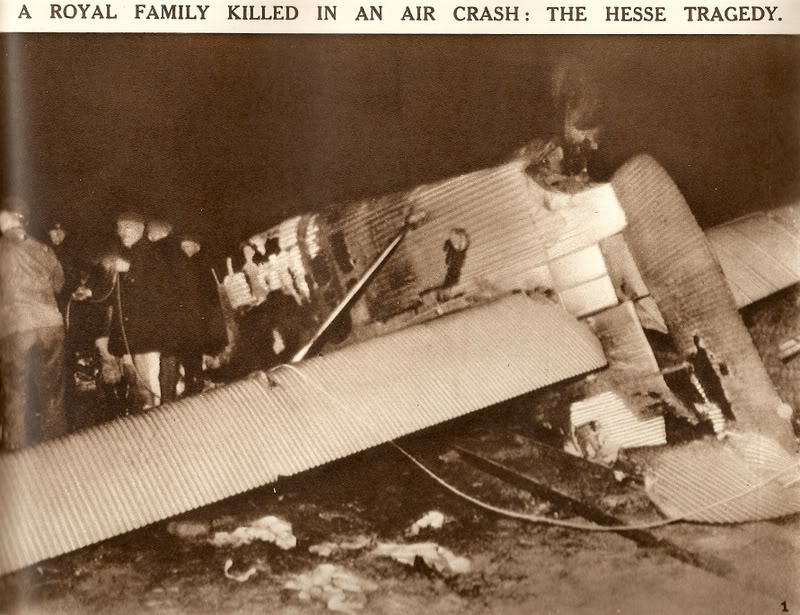 The Hesse Tragedy
Cecilie was buried with her husband, two sons and the stillborn child in Darmstadt at the Rosenhöhe. The funeral procession was lined with people giving the Hitler salute.
The only surviving member of the family was Princess Johanna, who was adopted by George Donatus' brother Prince Ludwig and his new wife, Princess Margaret. Their wedding took place the next day, but it was significantly toned down, and people were dressed in mourning. Princess Johanna would tragically die just two years later from meningitis, and she is buried with her parents and siblings.