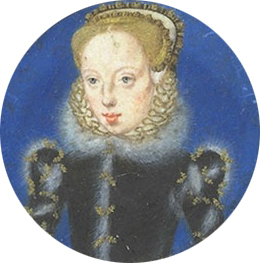 Lady Jane Grey is best known as the nine-day Queen of England who was eventually executed for treason in the reign of Queen Mary I. Her younger sisters Katherine and Mary survived the upheaval, but they would both suffer the wrath of Queen Mary's successor, Elizabeth I.
Katherine was born on 25 August 1540 while Mary was born in 1545 as the daughters of Henry Grey, 1st Duke of Suffolk, by his marriage to Lady Frances Brandon. Their mother Francis was the daughter of Mary Tudor, sister of Henry VIII, and Charles Brandon, 1st Duke of Suffolk. By Henry VIII's will, the Grey sisters were in the line of succession behind Edward VI, Mary I and Elizabeth. The will expressly excluded the line of Margaret Tudor, Henry VIII's elder sister.
Just before the failed attempt of placing their elder sister Jane on the throne, Katherine had married in a double wedding on 25 May 1553, Henry, Lord Herbert (heir of William Herbert, 1st Earl of Pembroke). Katherine was just 12 years old. Katherine went to live with her in-laws at Baynard Castle. 1 The 8-year-old Mary was betrothed to Lord Grey of Wilton, who was about 35 years older than her and he had been disfigured at the Battle of Pinkie in 1547. 2
It was not to last long. When Jane was imprisoned in the Tower, Katherine's father-in-law wished to annul the marriage. Both Katherine and her young husband claimed that the marriage had been consummated in an attempt to prevent the annulment. They had grown close during those traumatic days. 3 Katherine was sent home to her mother and her younger sister Mary. Mary's betrothal to Lord Grey of Wilton had been dissolved. 4In February 1554, Katherine received a final letter from her sister Jane in the Tower. She was to be executed the next day.
I have sent you, good sister Katherine, a book, which, though it be not outwardly trimmed with gold, yet inwardly it is of more worth than precious stones. It will teach you to live it will learn you to die…. Trust not that the tenderness of your age shall lenghten your life…for as soon as God will, goeth the young as the old. Labour always and learn to die. Deny the world, defy the devil, and despise the flesh. 5
Five days later, Katherine and Mary's father was also executed for his role. The childhood home of Bradgate was forfeited to the crown, but their mother had done her best to rehabilitate the remaining members of the family. Only six months after Jane's death both Mary and Katherine were at court with their mother. 6
Queen Mary I died in 1558 and was succeeded by her half-sister, now Queen Elizabeth I. Katherine and Mary remained potential heirs to the throne. For Katherine, this possibility came to a screeching halt in 1560.
Katherine had fallen in love with Edward Seymour, Earl of Hertford and with her mother's blessing Edward began to seek permission from Queen Elizabeth for the marriage. Frances even wrote to Elizabeth that the marriage, "was the only thing she desired before her death and should be an occasion to her to die more quietly." 7 Frances died on 20 or 21 November 1559 with her daughters beside her. Katherine was promoted to attend on the Queen personally, and there was some talk that Elizabeth would adopt Katherine as her heir.  8 Meanwhile, Katherine continued to meet Edward privately, and servants delivered messages and tokens between the two. 9 As Katherine rose in favour, the question of her marriage became even more important, and Edward was advised to withdraw his affections for Katherine. 10 They finally made a formal act of betrothal, where they promised to marry as soon as the Queen left the palace. Edward gave Katherine a pointed diamond ring, which she would keep until the day she died. 11 The marriage ceremony took place in December 1560 and was immediately consummated.  12 The marriage was kept a secret from the Queen. Katherine quickly fell pregnant, and by the eighth month, it was painfully obvious that she could no longer keep it a secret.
When Elizabeth found out, she was furious and ordered Katherine to the Tower accompanied by armed guards. Messengers were sent to Edward, demanding his immediate return to court.  13 Elizabeth feared a plot and suspected there was more to the story than just love.  14 Katherine was interrogated on 22 August 1561 and was now nine months pregnant. She confessed nothing. 15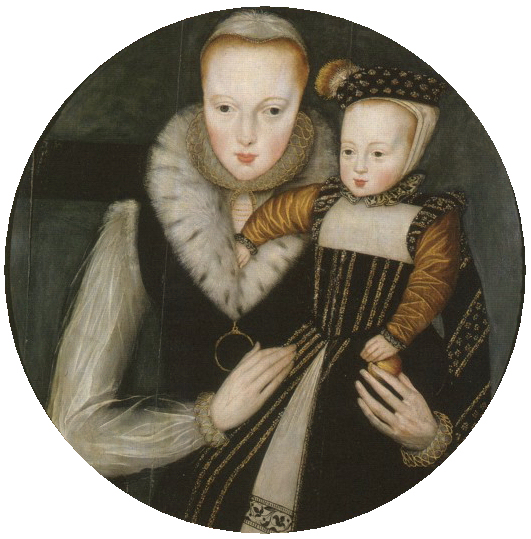 Edward arrived at the Tower on 5 September and inquired after Katherine. They now both faced questioning.  16 Between 2 and 2.30pm on 24 September, Katherine gave birth to a son named Edward. He was baptised two days later in the chapel of the Tower.  17 He too was a potential protestant heir, but only if his parents' marriage was valid. Their only witness, Edward's sister, had died. Edward managed to bribe guards and was able to visit his wife. They even managed to conceive a second child. On 10 February 1563, Katherine gave birth to a second son named Thomas.  18
An outbreak of the plague gave Elizabeth reason to separate the family for good. The eldest son was sent to Katherine's mother-in-law, the Duchess of Somerset, along with Edward. Katherine and Thomas were sent to her uncle, Lord John Grey at Pirgo. She was not allowed to contact Edward or her sister Mary.  19 Katherine began to fall into a depression as she feared the Queen's anger would never pass. Not much later, she and Thomas were moved to Sir William Petre. 20 In 1566, she was moved to Ingatestone and then to Cockfield. By then, she had become thin and pale. 21
Katherine was clearly ill. She was visited by doctors, but by early 1568 it became clear that she was dying. She took off her wedding ring, and the diamond pointed betrothal ring so that they could be delivered to her husband. "I pray you deliver this unto my Lord and pray him, even as I have been unto him…a true and faithful wife, that he will be a loving and natural father unto my children." 22 She produced a third ring to be handed to Edward, it was inscribed, "While I Lived, Yours." 23 She died on 26 January 1568. She was still only 27.