Non-fiction
Tudor Monarchs: Lives in Letters
Hardcover – 1 August 2017 (US) & 11 May 2017 (UK)
The Tudor period (1485-1603) is a story of drama, intrigue and tumultuous change but also of triumphs and progress, and it saw the emergence of an English national identity. Four hundred years after the Tudor era ended with the death of Elizabeth I, this extraordinary period in English history still fascinates and captures the public imagination like no other. The Tudor kings and queens remain the most well-known and fascinating English dynasty. The enormous increase in the quantity of surviving documents from Henry VIII's reign onwards means that the Tudor period is the first in English history to be so thoroughly documented in manuscript form. The British Library holds an incredibly rich and important collection of Tudor letters which enables this book to tell their story in their own words, their own handwriting, a close up look at a world of turbulent political scheming and grand, sometimes destructive love affairs. The selection in this book includes famous letters about major historical turning-points as well as unpublished eyewitness accounts by the key players in 16th-century life.
Raising Royalty: 1000 Years of Royal Parenting
Hardcover – 2 May 2017 (UK) & 8 April 2017 (US)
How royal parents dealt with raising their children over the past thousand years, from keeping Vikings at bay to fending off paparazzi. William and Kate, the Duke and Duchess of Cambridge, are setting trends for millions of parents around the world. The upbringing of their two children, Prince George and Princess Charlotte, is the focus of intense popular scrutiny. Royalty have always raised their children in the public eye and attracted praise or criticism according to parenting standards of their day. Royal parents have always faced unique challenges and held unique privileges. In medieval times, raising an heir often meant raising a rival, and monarchs sometimes faced their grown children on the battlefield. Conversely, kings and queens who lost their thrones in wars or popular revolutions often found solace in time spent with their children. In modern times, royal duties and overseas tours have often separated young princes and princesses from their parents, a circumstance that is slowly changing with the current generation of British royalty.
Lady Jane Grey: Nine Days Queen (Classic Histories Series)
Paperback – 6 October 2016 (UK) & 1 May 2017 (US)
For most, the name of Lady Jane Grey means the "nine days queen," the child who was used as a pawn in the power politics of the Tudor realm by both her parents, the Suffolks, and Northumberlands. Alison Plowden's new book tells the tragic story of Jane's life, and death, but also reveals her to be a woman of unusual strength of conviction, with an intelligence and steady faith beyond her years. Told with Alison's usual skill and adeptness, this is a story which will stir compassion in the hearts of the hardiest readers. It also gives us insight into the least known of Henry VIII's wives, Katherine Parr.
The Tudor Kings & Queens: The Dynasty That Forged a Nation
Paperback – 15 May 2017 (UK) & unknown (US)
Tudor Kings and Queens is the ideal, handy guide to what is a perennially popular era in British history. Beginning with the accession to the English throne of Henry VII, the author guides the reader through a succession of monarchs, who also included the infamous King Henry VIII, Mary I, Edward VI and Elizabeth I. Identifying the key moments of their reigns, from insurrections to their handling of foreign policy to their many marriages, Alex Woolf clarifies the way in which these kings and queens governed their realm and what they had to deal with. Well-known figures from the period come to life and their roles in supporting or opposing these kings and queens are explained in context. It's the perfect companion for anyone who enjoys historical drama and wants to know more about one of the most intriguing royal dynasties.
The Wandering Princess: Princess Helene of France, Duchess of Aosta 1871-1951
Hardcover – 11 May 2017 (UK) & 3 October 2017 US)
Helene was a strong-willed princess, raised in France but closely connected with the court of Queen Victoria. After the premature end to a romance with Victoria's grandson, she married into the royal family of Italy. However, Helene began extended adventuresome trips into Africa where she became a big-game hunter, explorer and travel writer, escaping from an unhappy marriage and the boredom of court life. Her travels took her around the world, but her sense of royal duty brought her back to nurse aboard a hospital ship in Libyan waters, then to an important role as head of the Italian Red Cross nurses during the First World War while her husband headed Italy's Third Army, and her two sons served in the artillery and the navy. Afterwards, her strong Italian nationalism made her an ally to Gabriele d'Annunzio and Benito Mussolini, but the disastrous Second World War saw her grandchildren interned in Austria and her older son die as a British prisoner-of-war while she continued her charitable work in Naples. When the country voted to become a republic in 1946, Helene was the only member of the royal family allowed to remain in Italy with her second 'secret' husband.
Fiction
Katherine of Aragon, The True Queen: A Novel (Six Tudor Queens)
Paperback – 2 May 2017 (US) and 5 May 2016 (UK)
Bestselling author and acclaimed historian Alison Weir takes on what no fiction writer has done before: creating a dramatic six-book series in which each novel covers one of King Henry VIII's wives. In this captivating opening volume, Weir brings to life the tumultuous tale of Katherine of Aragon, Henry's first, devoted, and "true" queen.
A princess of Spain, Catalina is only sixteen years old when she sets foot on the shores of England. The youngest daughter of the powerful monarchs Ferdinand and Isabella, Catalina is a coveted prize for a royal marriage—and Arthur, Prince of Wales, and heir to the English throne, has won her hand. But tragedy strikes and Catalina, now Princess Katherine, is betrothed to the future Henry VIII. She must wait for his coming-of-age, an ordeal that tests her resolve, casts doubt on her trusted confidantes, and turns her into a virtual prisoner.
Katherine's patience is rewarded when she becomes Queen of England. The affection between Katherine and Henry is genuine, but forces beyond her control threaten to rend her marriage, and indeed the nation, apart. Henry has fallen under the spell of Katherine's maid of honor, Anne Boleyn. Now Katherine must be prepared to fight, to the end if God wills it, for her faith, her legitimacy, and her heart.
A Want of Kindness
Hardcover – 5 May 2017 (US) & 7 June 2017 (UK)
Unfolding in the heady world of the glittering Restoration court, A Want of Kindness follows an expendable princess on her unlikely progress to becoming queen, through the religion, politics, disease, deceit, and treachery of the time.
The wicked, bawdy Restoration court is no place for a child princess. Ten-year-old Anne cuts an odd figure: a sickly child, she is drawn towards improper pursuits. Cards, sweetmeats, scandal, and gossip with her Ladies of the Bedchamber figure large in her life. But as King Charles' niece, Anne is also a political pawn, who will be forced to play her part in the troubled Stuart dynasty.
Transformed from overlooked princess to the heiress of England, she will be forced to overcome grief for her lost children, the political maneuverings of her sister and her closest friends, and her own betrayal of her father, before the fullness of her destiny is revealed. In A Want of Kindness, Limburg has created a richly realized time and world, and in Anne, a complex and all-too-human protagonist.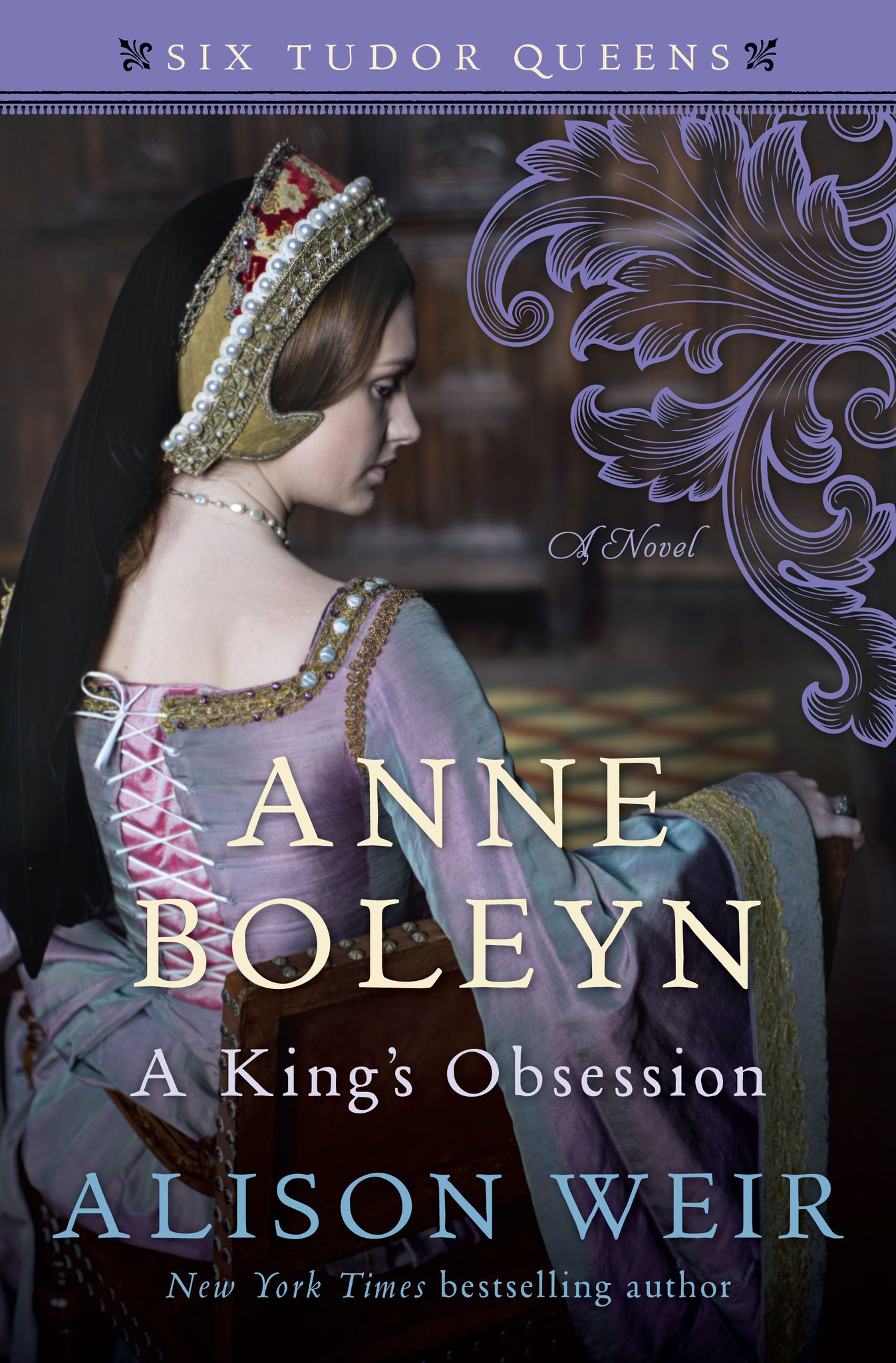 Anne Boleyn, A King's Obsession (Six Tudor Queens)
Hardcover –21 June 2017 (US) & 22 May 2017 (UK)
In this second novel of Alison Weir's epic Six Tudor Queens series, the acclaimed author and historian weaves exciting new research into the story of Anne Boleyn, Henry VIII's most infamous wife, a woman ahead of her time whose very life—and death—forever changed a nation.
Born into a noble English family, Anne is barely a teenager when she is sent from her family's Hever Castle to serve at the royal court of the Netherlands. Yet what seems a strategic move on the part of her opportunistic father is actually a chance for the girl to grow and discover herself. There, and later in France, Anne thrives, preferring to absorb the works of progressive writers rather than participate in courtly flirtations. She also begins to understand the inequalities and indignities suffered by her gender.
Anne isn't completely inured to the longings of the heart, but her powerful family has ambitious plans for her future that override any wishes of her own. When the King of England himself, Henry VIII, asks Anne to be his mistress, she spurns his advances—reminding him that he is a married man who has already conducted an affair with her sister, Mary. Anne's rejection only intensifies Henry's pursuit, but in the absence of a male heir—and given an aging Queen Katherine—the opportunity to elevate and protect the Boleyn family, and to exact vengeance on her envious detractors, is too tempting for Anne to resist, even as it proves to be her undoing.
While history tells of how Anne Boleyn died, this compelling new novel shows just how she lived.