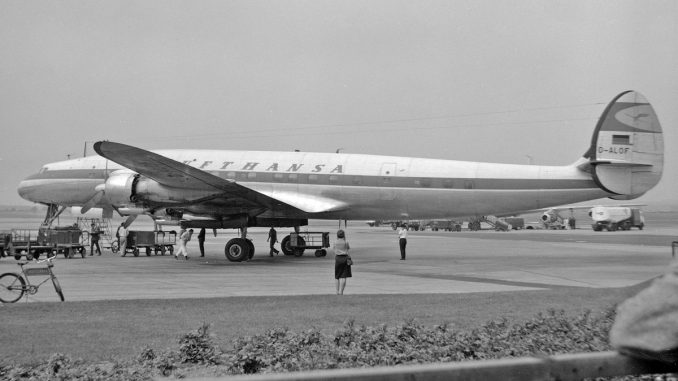 On 12 January 1959, the New York Times reported, "36 IN AIRLINER DIE IN CRASH NEAR RIO." The crash had taken place the day before.
The following article read,
Twenty-nine passengers and seven crew members were killed today when a West German Lufthansa airliner crashed and burned in a rainstorm while approaching Galeao Airport. Three persons survived, but with severe injuries. The navigator was blown out of the burning plane. The steward and stewardess crawled to safety. All three were taken to a hospital.

Observers said that the four-engine Constellation was approaching the airport on Galeao Island when it hit the waters of Guanabara Bay about a mile offshore. It rose in the air, then crashed in a mudflat near the runway and burst into flames.

The passengers frantically sought to escape as the fire swept the cabin but they were trapped. Efforts of rescue crews to reach the scene were slowed by mud and heavy rain.

The pilot was an American Capt. Wren McMains of Stamford, Conn.

The dead included Gary Levy, aged 38, South American manager for Reuter news agency, and Count and Countess Jaroslav Kottulinsky of Vienna.

The plane left Hamburg yesterday morning, landed in Frankfurt, Paris and Dakar and then flew across the South Atlantic. Lufthansa said this was the airline's first fatal accident since the company began its post-war operations April 1, 1955. South Atlantic Operations started in August, 1956."1
#OTD In 1959, Lufthansa Flight 502 crashed on approach to Rio de Janeiro-Galeão International Airport. Killing 36. pic.twitter.com/PLnbZUJe5o

— Air Disasters (@AirCrashMayday) January 11, 2016
The following investigation was not able to determine the exact cause of the crash but believes the most likely cause was pilot error, resulting in Lufthansa Flight 502 descending below the minimum altitude required for the approach. Flight time limits had been exceeded under Brazilian regulations, but not under German regulations and fatigue was also considered to be a factor.
The above mentioned Countess Jaroslav Kottulinksy was born Archduchess Maria Ileana of Austria, daughter of Princess Ileana of Romania and Archduke Anton of Austria, Prince of Tuscany. Maria Ileana married the Austrian Count Jaroslaw Kottulinsky, son of Count Karl Kottulinsky and Countess Maria Theresia von Meran, in 1957 in Vienna. On 25 August 1958, Maria Ileana gave birth to their daughter also named Maria Ileana, who was not on the flight with her parents. Their daughter married Noel van Innis but they had no children together and she reportedly died of breast cancer in 2007.