Joanna of Flanders has gone down in history as the 'Fiery' for her role in the War of the Breton Succession. She was born circa 1295 as the daughter of Louis I, Count of Nevers and Joan, Countess of Rethel. Her grandfather was also Count of Flanders, but as her father predeceased his father he never became Count of Flanders, but Joanna is known as 'of Flanders'.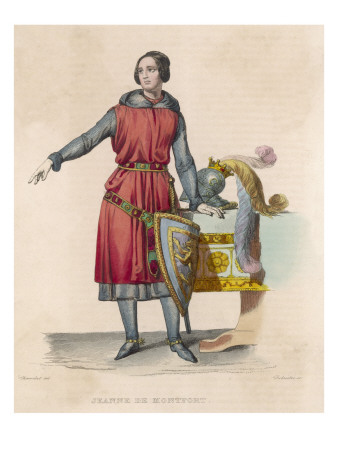 Joanna married John of Montfort in March of 1329, who claimed the title of Duke of Brittany. Brittany allowed for the succession of a woman in a semi salic model, and John's claim was contested by Joan of Penthièvre, a daughter of Arthur II's second son Guy while John was Arthur II's fourth son. Joan had the backing of the King of France as she was married to his nephew. The dispute led to a civil war that lasted 23 years. It was dubbed 'La Guerre de Deux Jeanne' for both of the Joan(na)'s involved.
Joanna and John had two children, John and yet another Joan. Her husband died right in the middle of the war, while her son was still an infant. Joanna personally mustered an army and prepared for battle. Joanna took up arms and dressed in armour while encouraging the townspeople to fight. She spotted the enemy's camp while it was almost unguarded and charged it with 300 men. She burned down its tents and supplies and earned her nickname 'the Fiery'. Joanna was backed by the English, and while she was forced to flee England eventually, the backing of the English troops helped them capture Charles of Blois, Joan of Penthièvre husband in battle.
Though she lived to see her son become John V, Duke of Brittany, Joanna was not well. She became mentally ill and was confined to Tickhill Castle for the rest of her life. It appears she died around 1374 and not much more is known of the illness she suffered.
Her daughter Joanna remained in England and became Baroness of Drayton by marriage.