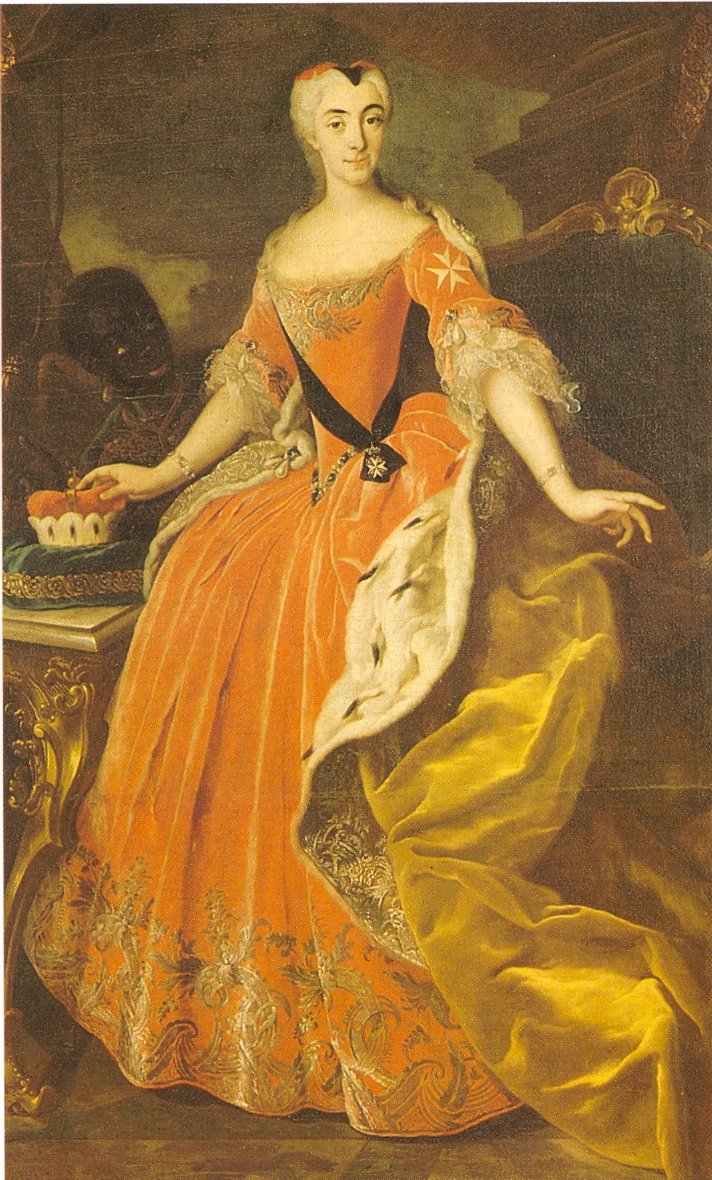 Marie Auguste of Thurn and Taxis was born on 11 August 1706 as the daughter of Anselm Franz, 2nd Prince of Thurn and Taxis and his wife Maria Ludovika Anna Franziska, Princess of Lobkowicz. She grew up in the Austrian Netherlands until the family moved back to Frankfurt.
She married Charles Alexander, Duke of Württemberg-Winnental (later Duke of Württemberg) on 1 May 1727. Their marriage was described as turbulent as she was the match of her husband. She refused to live by traditional feminine virtues, acted impulsively and spoke her mind.1 The couple went on to have six children, of which four would survive to adulthood.
Marie Auguste was known for her extravagance, her wardrobe alone consisted of 228 dresses. The most expensive one was valued at 500 florins, which was over 30 times a servant's annual income. 2 Her life began to change with her husband's sudden death in 1737. A regency crisis ensued, but Marie Auguste had already been entrusted with a regency once before and was in a strong position to act for her nine-year-old son. She was named co-regent in her husband's will but this was overturned, and the decrepit Carl Rudolph of Württemberg-Neuenstadt was appointed as sole regent.3 Her protests went unanswered and her remaining supporters were purged from the government. She turned to Vienna for support and even though the Emperor wrote several letters on her behalf, he was eventually bought off.4
Marie Auguste was not about to be outsmarted, and she secretly opened negotiations that ended in a compromise with the council on 5 November 1737. She managed to secure a large allowance for herself and was recognised as co-regent with Friedrich Carl von Württemberg-Oels.5
Between 1739 and 1740, she began an affair with Captain Christoph Friedrich von Werneck, and once pregnancy rumours started circulating, she was investigated, and von Werneck was discharged, and she was banished to Brussels for five months.6 During this time, her co-regent concluded a disastrous alliance with Prussia. Her young sons were sent to Berlin as virtual hostages to ensure that the duchy would not side with Austria during the War of the Austrian Succession.
Her eldest son married Elisabeth Fredericka Sophie of Brandenburg-Bayreuth, a niece of Frederick the Great, while her third surviving son married Friederike Dorothea of Brandenburg-Schwedt, another niece of Frederick the Great. While the marriage of her eldest son was a personal disaster, it was a political triumph. In addition to the marriages, Marie Auguste secured the Emperor's approval to end her son's regency which also allowed the princes to return home.7 This was not the end of Marie Auguste's influence, and she convinced him to confirm Stuttgart as the duchy's capital.
As her son grew up, her influence declined. Their first major disagreement was about Marie Auguste's daughter Auguste of Württemberg, who entered the Ursuline convent in Metz in 1750. He had wanted her to marry a French prince, but that match fell through. She eventually married Karl Anselm, 4th Prince of Thurn and Taxis. Marie Auguste's influence in government was resented by her son. The final straw came went he discovered secret payments being made to her by the estates. He ordered that these be ended and effectively had her shut up in her dower house at Göppingen, where she died on 1 February 1756.8