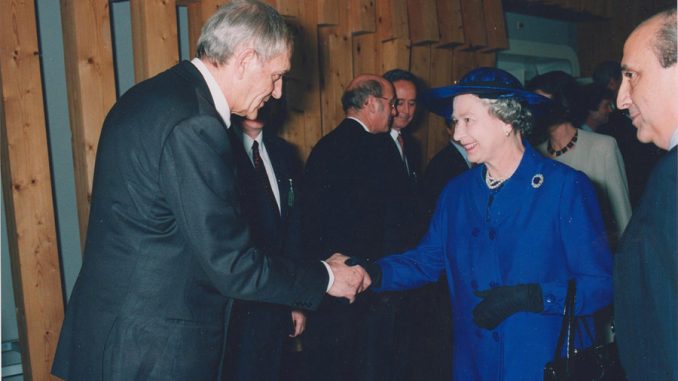 When Prince Charles turned 30 years, pressure intensified for him to marry. He had met Lady Diana Spencer previously – he had dated her sister Sarah – but it wasn't until July 1980 that their romance began. He was 12 years older than her. A whirlwind courtship followed, and he proposed on 6 February 1981. Their engagement was announced to the world on 24 February. Just weeks before their wedding, six shots were fired at The Queen during the Trooping the Colour. The shots turned out to be blanks and Elizabeth was not injured. The possibility of an assassination was always there but she was assured in knowing that a succession was in place.
On 29 July 1981, Prince Charles married Diana at St. Paul's Cathedral as an estimated 600,000 people lined the streets. The marriage was soon on the rocks, but it would produce two sons, Princes William and Harry. She now had four grandchildren, but there was no slowing her down and she made several international visits. Three days after The Queen's 60th birthday in 1986, The Duchess of Windsor died at the of 89. The Duchess was buried next to her husband at Frogmore. Later that year, it was time for Prince Andrew to marry Sarah Ferguson and upon their wedding, they became The Duke and Duchess of York. Their first child Princess Beatrice was born in 1988, followed by Princess Eugenie 1990. However, by the end of the 80s, all three of her children's marriages were in trouble. Diana had taken up with one of her bodyguards, Barry Mannakee, followed by a romance with James Hewitt. Meanwhile, Charles resumed his affair with Camilla Parker-Bowles. Anne had grown close to Timothy Laurence while Sarah was left alone as Andrew was away with the navy. Anne was the first to officially divorce – on 28 April 1992 – and she remarried to Timothy Laurence later that same year.
The year 1992 has gone down in history as The Queen's annus horribilis. Not only did Anne divorce her husband, Sarah and Andrew announced their intention to separate, the Sunday Times also published two excerpts of Andrew Morton's book, Diana: Her True Story, which blew up. Diana lied that she had not helped the author of the book and soon the entire royal family was on Charles's side. Elizabeth was soon worried about the prospect of a divorced heir to the throne. Just a month later, Sarah was splashed bare-breasted across the newspapers. Sarah later recalled, "Her (Elizabeth's) anger wounded me to the core, the more because I knew she was justified." The year ended with the horrible news that Windsor Castle was on fire. It was eventually decided to open the palace to the public to pay for the renovations. Four days after the fire, Elizabeth spoke at a luncheon at the Guildhall, "Nineteen ninety-two is not a year on which I shall look back with undiluted pleasure. In the words of one of my more sympathetic correspondents, it has turned out to be an 'annus horribilis'." On 9 December, it was announced to the House of Commons that Prince Charles and Diana would be separating.
The final straw came on 20 November 1995 when Diana appeared in the public affairs program Panorama, unbeknownst to anyone. The Queen then told Charles and Diana to make their separation definite, and their divorce came through on 28 August 1996 – just four months after the official divorce of The Duke and Duchess of York. But if Elizabeth expected that Diana would shrink away, she was mistaken. A year after the divorce – on 31 August 1997 – Elizabeth was informed that Diana and her boyfriend Dodi Fayed had been in a car accident. They and their driver had been killed. The following days as Elizabeth attempted to protect her grandsons from the outside world and to grief in private, the public began to accuse her of being cold. She had not expected the immense outpouring of grief and the public was not placated until she spoke the day before the funeral and managed to praise the daughter-in-law with whom she had been at odds, "In good times and bad, she never lost her capacity to smile and laugh, nor to inspire others with her warmth and kindness."
Five years on from her annus horribilis, Windsor Castle was restored to its former glory and Elizabeth, and Philip celebrated their golden wedding anniversary. They attended a service of thanksgiving at Westminster Abbey – where they had married fifty years before. The royal family began to manage its public duties more closely in the last years of the 90s. The media had changed and so should they. But those last years also brought a new set of worries for Elizabeth – mainly for her mother and sister who were both in ill health. The Queen Mother was approaching her 100th birthday, and Margaret had suffered a stroke in 1998. There was also some good news as Elizabeth's youngest son Edward married Sophie Rhys Jones on 19 June 1999, and they became the Earl and Countess of Wessex. Elizabeth and Philip welcomed the year 2000 in the Millenium Dome in Greenwich, though many later commented that they looked less than pleased to be there.1
Part five coming soon.