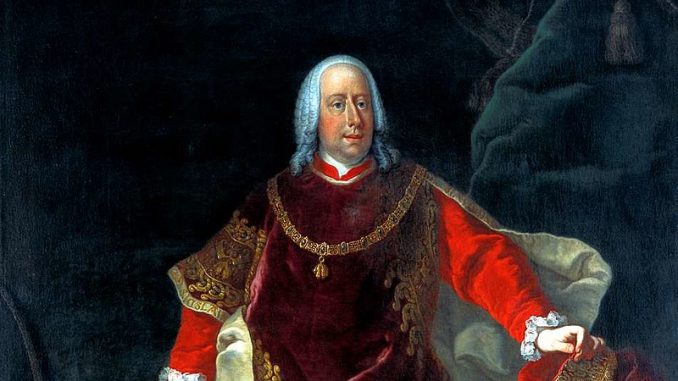 Elisabeth Hildebrand (or Hillebrand) was born in 1757 as the daughter of an Adam (Rupert?) Hildebrand and an Ursula (Eva?) Berner. She was the youngest of ten siblings. The family was of humble origin, the family either ran a small farm in Berchtesgaden or they sold goods on a market.
On 4 June 1787, the wife of Karl Anselm, the 4th Prince of Thurn and Taxis, Auguste of Württemberg, died in her prison at Hornberg. Elisabeth had been his mistress for a while and she had given birth to their illegitimate son on 4 May 1787. With the convenient death of his wife, Karl Anselm was now free to marry his mistress and they married on 8 August 1787. However, due to her low rank, she could not take her husband's title and the marriage was considered to be morganatic. A year after their wedding, she was made "Frau von Train" with their son taking the last name "von Train." However, their love apparently cooled not much later and they had no other children together. Karl Anselm ordered his wife to move away from Regensburg.
On 13 November 1805, Karl Anselm suffered a stroke while on the road and passed away a few hours later. Elisabeth immediately took up her financial claims with his son and successor Karl Alexander, now the 5th Prince of Thurn and Taxis and reminded him of his duty to look after her and his half-brother. However, a year later her claims had still not been settled. She was in deep money trouble and had probably already forged her stepson's signature to secure a loan. To prevent further embarrassment, she was finally granted a pension for her maintenance.
The news of Elisabeth's illness reached the Princely court on 17 April 1841 and she died four weeks later. Her son wrote, "After five months of terrible suffering, today at noon, my mother has gone to sleep with the Lord. He thanked his cousin Maximilian Karl, 6th Prince of Thurn and Taxis – Karl Alexander had died in 1827 – for the pension and asked for money for the funeral and burial and also for mourning clothes for his wife and daughter. Elisabeth's line has died out in the male line.1