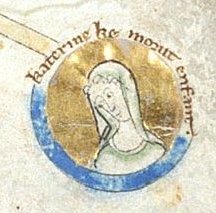 This is a guest series by Meghan.
There's no easy way to discuss disability, much less royals with some sort of disability. Surprisingly, there have been quite a few royals of both sexes that have had a wide range of mental and physical disabilities. For this part, we head back to the medieval days of the early English and Scottish rulers. Two women who have had similar conditions but their stories ended very differently.
We start with Katherine of England; she was the daughter of Henry III and his wife Eleanor of Provence. 1 Henry was the son of King John and Isabella of Angouleme, while Eleanor was the second daughter of Ramon Berenguer IV, Count of Provence and Beatrice of Savoy. Unfortunately, there's not much known about young Katherine other than it was possible she was born deaf and/or mentally challenged. She was very loved by her parents, but as most princesses like her, she was never betrothed to anyone, probably because of the severity of her condition. Her parents probably thought she wouldn't be able to connect with anybody besides her nurses. Sadly, the young girl died in 1253 at the age of three.
Our next princess was Joan or Joanna Stewart. She was the third child and second daughter born to James I of Scotland and his wife, Lady Joan Beaufort. Princess Joan was a granddaughter of King Robert III of Scotland on her father's side and John of Gaunt on her mother's side. Now she was born deaf as well, and she was given a nickname for it, as she was known "the dumb lady of Dalkeith". Unlike Katherine of England, Joan was married off to James Douglas, 1st Earl of Morton, making her the Countess of Morton. 2 Since religion was the way of the world back then, everybody believed in what their priests told them and whatever they said meant it was true. Of course, I cannot find any information on how the royal children of this period with disabilities were treated, but with the research, I found based on the families and persons with a disability this seemed to be the way they were treated well by others around them.
There's something I've always been interested, the ladies-in-waiting of the queen, the king's sister, daughter, and/or mother. I've wondered whether or not Joan was a lady-in-waiting to her brother and King James II of Scotland's wife Mary of Guelders. I also think about how Katherine's life would have been like if she had lived longer, would she have been by her mother's side for the rest of her life or would she go on to live in one of her older siblings households to work?
One thing that I know to be common with early royals is that the daughters would become nuns, I feel like if both Katherine and Joan didn't have any other options left that this would be the last resort in my book. If they were deeply religious as most people were like I said above, it would have been a way to escape life at court and devote themselves to God by helping others.
What do you think would have happened to Katherine of England if she had lived to adulthood? What do you think of Joan Stewart becoming a lady-in-waiting to Mary of Guelders?
They went on to have four children before she died in 1493.

During the times of both Katherine and Joan, disability was looked at in two different ways: you were either born that way as a punishment for something someone in your family had done or you were closer to God. [note⌉Historic England