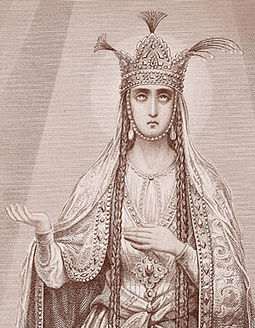 This article titled "Georgians seek buried bones of martyred queen" was written by Luke Harding in New Delhi, for theguardian.com on Saturday 24th June 2000 23.14 UTC
For almost 400 years, the remains of Queen Ketevan, a Georgian martyr and patriot, lay undisturbed somewhere in St Augustine Church. The challenge for archaeologists is to find her. In an unusual diplomatic move, the Georgians have now said they want their queen back and have asked the Indian government to dig her up. Georgia's Foreign Minister, Irakli Menagarishvili, flew into New Delhi last month to press his case. He asked his opposite number, Jaswant Singh, to try to locate her remains. The Indians agreed to help.
Archaeologists must now unravel one of the last great mysteries of the Portuguese colonial era. While there is no doubt that Queen Ketevan is buried in Goa, near the mummified remains of St Francis Xavier – whose toeless corpse is in the Bom Jesus church down the road from St Augustine's – the archives are vague on detail. They say she was interred 'to the right of the altar' in the St Augustine Church.
'The problem is,' said Dr P.P. Shirodkar, who led the last excavation of the church in 1998, 'if you stand facing the altar it becomes the right side. If you stand at the altar, the right side becomes the left side. It is a confusing mystery. There was a practice of burying VIPs in big convents like this, so we are sure she is there somewhere. But so far we have been unable to locate her.'
The church, built in 1602 by Augustinian friars, was originally part of a larger monastic complex. The vault and most of the nave collapsed long ago, leaving only a 46-metre bell tower and façade in the jungle. Excavators in 1988 found 54 grave slabs – but none bore Ketevan's name.
Dr V. Rao of Goa's state-run archaeology unit said attempts to find the queen would begin anew after the monsoon. 'The problem is there were four altars, which makes things difficult,' he said. 'Several Georgians have already come to try and find Ketevan, but have left empty-handed.'
Queen Ketevan was carried off to Shiraz, now in Iran, when the Persians, led by Shah Abbas the Great, pillaged eastern Georgia. According to a contemporary report by Augustinian fathers, the Shah asked her to convert to Islam and become his wife (she was already a widowed grandmother). When she refused, she was stripped to the waist, tortured with hot irons, crushed with a flaming brazier and strangled.
Her body was taken to Lisbon by four Augustinian priests, then to Goa in 1627, as Portugal's Asian empire began to crumble. Although she was Greek Orthodox, Queen Ketevan was subsequently embraced by the Catholic Church as a saint. Her original tomb was said to emit a mysterious light.
Merab Chachua, a Georgian government spokesman, said Georgia, which gained independence in 1992, wanted to give Ketevan a full state funeral. 'Queen Ketevan has been declared a saint by the Georgian Church and she is taught in schools. Many Georgian women are called Ketevan. We would like to have her back,' he said.
guardian.co.uk © Guardian News & Media Limited 2010
Published via the Guardian News Feed plugin for WordPress.