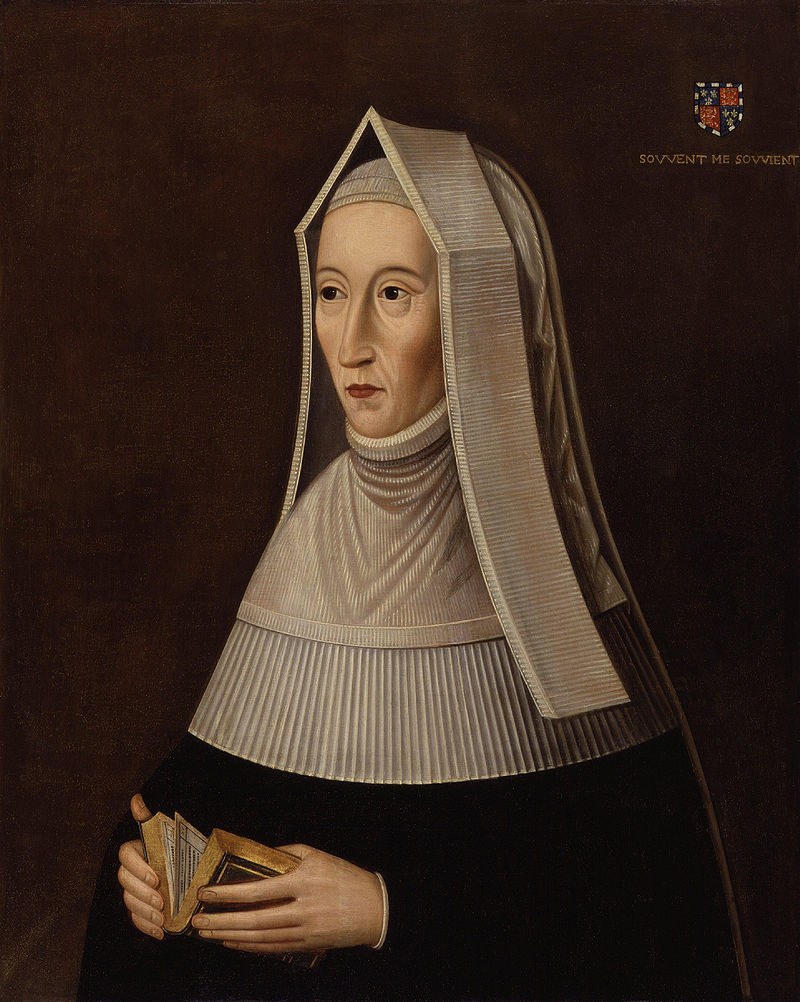 This is a guest article by Meghan.
Read the previous article here.
Out of all of the heiresses that I wanted to discuss, Lady Margaret Beaufort, Countess of Richmond and Derby was at the top of the list. Her name has become a topic of debate, thanks in part to Philippa Gregory's books and Starz creating both The White Queen and The White Princess. We saw a very rich woman, who was devoted to both her faith and her only child, the future Henry VII, and was prepared to do anything to help him get there, even if that meant being responsible for the disappearance of the Princes in the Tower.
In today's piece, we will look at Lady Margaret in a totally different way. I'll be asking some important questions at the end, looking for some thoughts about what you think of Margaret's decisions on life. You believe what you want, but I'm here to share with you a side that is not discussed as much.
Lady Margaret Beaufort was the only daughter to the marriage of her parents, John Beaufort, Duke of Somerset and Margaret Beauchamp. On her father's side, she is related to both Edward III and John of Gaunt, Duke of Lancaster with his mistress turned wife, Katherine Swynford.1 After the sudden death of her father, she was taken in as a ward to William de la Pole, Duke of Suffolk. If you're not familiar with the term "ward", it simply means de la Pole was her legal guardian.2He looked over her estates and money, with this he also had the right to arrange a marriage for her. At the age of nine, she was married off to William's son, John, 2nd Duke of Suffolk, but John was killed just two years later, and it was also later annulled by King Henry VI.
Margaret was chosen by the king to marry his half-brother Edmund Tudor.3 One thing about both Margaret and Edmund that I found to be very interesting is that both sides of their family trees are considered as "bastards" since there's no record of Edmund's parents Catherine of Valois and Owen Tudor actually being married at all. Katherine Swynford was a longtime mistress to the Duke of Lancaster, while he was still married to Constance of Castile. They had four children and this lead to the beginning of the "Beaufort" family line.4 Although they were recognised as legitimate, they weren't allowed to be put into the line of succession.
Since Margaret was fairly wealthy, she was a perfect match for the tainted sibling to the king. However, there was one thing slightly disturbing about their situation. Lady Margaret was still fairly young, not even a teenager yet and she married somebody in their mid-20's! Edmund and Margaret consummated their marriage, and as Edmund went off to fight for the Lancasterian throne, Margaret was now pregnant with her first child, and after the death of the Earl of Richmond, she once again became a ward to her brother-in-law Jasper Tudor, Earl of Pembroke.
She stayed at Pembroke Castle as she slowly progressed in her pregnancy. This is called "lying in" as she was away from society, waiting for the arrival of her child. One of the things that is fairly certain about the birth is that it was a very traumatic experience for the young Countess, possibly because of her petite size. Back then, only women assisted the mother and child in the birthing process, no men were allowed. Margaret, her ladies and nurses prayed over many relics of saints, and she was given different things to try to relieve the pain. 5 She finally gave birth to her only child, Henry Tudor, 2nd Earl of Richmond on January 28th, 1457.
A year later, Margaret was arranged into another marriage, this time to a Yorkist supporter, Henry Stafford. They were both cousins, bonded to John of Gaunt, and again, this was a common thing to get married to distant relatives. Despite the fact that Margaret was a previous supporter to the Lancastrian side, her husband fought hard to help keep her family estates, but unfortunately, her only child would be sent to Wales to live with his paternal uncle, Jasper Tudor. In 1471, Henry died after suffering from battle wounds, and she quickly married again, this time to Thomas Stanley, Earl of Derby. He died in 1504.
One thing that I didn't understand before writing this piece was if Margaret was so religious and later was said that she took a vow of celibacy during both of her marriages to Henry Stafford and Thomas Stanley, why didn't she become a nun. But my original thought comes back to if she was the only remaining "Beaufort" in her family, somebody needed to watch over the lands and wealth she inherited. She couldn't exactly keep her fortune as a nun! Women also didn't have any real power against men in medieval times, so once she became "My Lady Mother To The King" a title she graciously accepted and nothing lower than that, she no longer had to keep marrying to be able to control everything she owned. However, is it safe to question, considering she was forced to marry at such a young age twice in her life and always had a man watch over what she had and did, could that have been part of her driving force to get her son to the throne? So she didn't have to go by the standards put in place the men of medieval society?
Her son King Henry VII sat on the throne for 24 years, with his wife Elizabeth of York.