Ten remarkable women.
One remarkable era.
In the Tudor period, 1485–1603, a host of fascinating women sat on the English throne. The dramatic events of their lives are told in The Turbulent Crown: The Story of the Tudor Queens of England.
The Turbulent Crown begins with the story of Elizabeth of York, who survived conspiracy, and dishonour to become the first Tudor Queen, bringing peace and order to England after years of civil war. From there, the reader is taken through the parade of Henry VIII's six wives – two of whom, Anne Boleyn and Katheryn Howard, would lose their heads against a backdrop of intrigue and scandal.
The Turbulent Crown continues with the tragedy of Lady Jane Grey, the teenager who ruled for nine days until overthrown by her cousin Mary Tudor. But Mary's reign, which began in triumph, ended in disaster, leading to the emergence of her sister, Elizabeth I, as the greatest of her family and of England's monarchs.
————————————-
Roland Hui received his degree in Art History from Concordia University in Canada. After completing his studies, he went on to work in Interpretive Media for California State Parks, The U.S. Forest Service, and The National Park Service.
Roland has written for Renaissance Magazine and for Tudor Life Magazine. He blogs about 16th-century English art and personalities at Tudor Faces at: tudorfaces.blogspot.com.
a Rafflecopter giveaway
Princess Marie Louise and the Creation of Queen Mary's Dolls' House by Roland Hui
By its very definition, a royal palace should be monumental, imposing in size and appearance. One only needs to look at the grandeur of Buckingham Palace, or the sprawling splendour of Hampton Court to know that these are homes fit for a king. But one royal palace that completely broke away from expectations was that built in the reign of King George V for his wife Mary of Teck. Its size was not measured in feet but in inches. In fact, one would need to be 6 inches tall in order to enter the front door!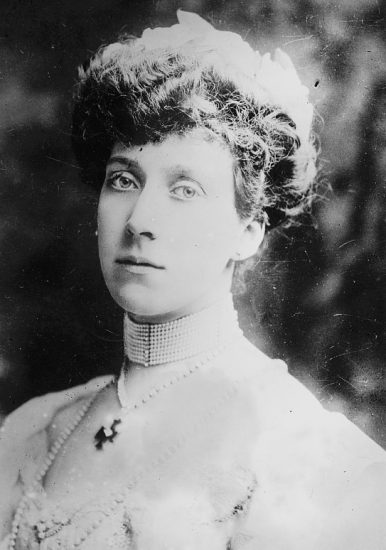 The enchanting Queen Mary's Dolls' House was the brainstorm of Princess Marie Louise (1872-1957). A granddaughter of Queen Victoria (her mother was the Queen's third daughter Princess Helena), she was affectionately known as Cousin Louie to the rest of the royal family and was especially close to Queen Mary. The two had known each other since they were young girls, and Marie Louise was fond of recalling the now ever regal and dignified Mary as a fun loving 'tomboy – up to any pranks and games.'
Whereas King George's hobby was stamp collecting, his wife's was antiques and objets d'art. Queen Mary was an avid collector of miniatures. Her cabinets at Buckingham Palace and at Sandringham House were filled with the tiny treasures she had acquired over the years. The Queen was a devoted shopper and was a familiar face to shopkeepers from York to Brighton. What she couldn't buy, she received as 'gifts'. Queen Mary could be a bit of a terror as a houseguest. She wasn't shy about 'charming' a host or hostess until a beloved heirloom was reluctantly handed over. Being royal had its privileges!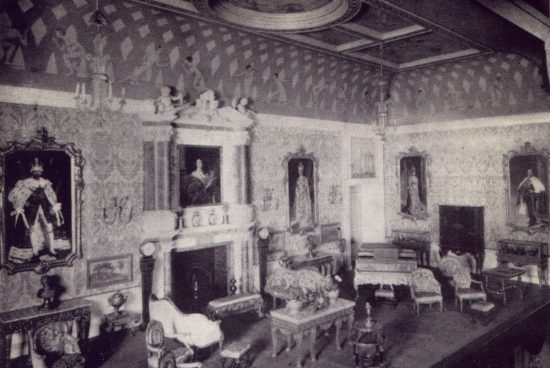 Knowing of the Queen's love for miniatures and doll furnishings, Princess Marie Louise hit upon the idea of building her a dolls' house in 1921. The house was to be a public tribute to the Queen for her years of service, especially during the Great War. Queen Mary was much loved and respected for her charitable work with hospitals and relief organisations.
Marie Louise had only one architect in mind capable of taking on such an ambitious scheme – Sir Edwin Lutyens. He was a good friend of the Princess and was already renowned for designing the Cenotaph at Whitehall, and for planning the city of New Delhi. Lutyens was extremely enthusiastic about the project. Not only would it be a fitting gift to the Queen, but it would also be a showcase of British craftsmanship. The house was to be completely furnished with all the luxuries befitting a monarch. The artistic and historical importance of the dolls' house was immediately recognised. It will enable, as Lutyens said, "future generations to see how a king and queen of England lived in the 20th century, and what authors, artists, and craftsmen of note there were during their reign."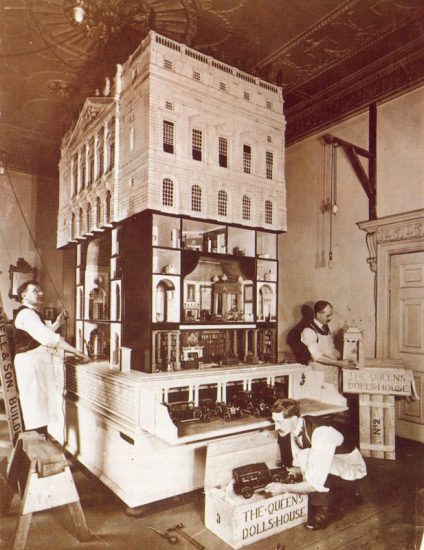 As it was a public undertaking, the cost and manufacture of the house was realised by private donations of money, and by volunteered skills. Princess Marie Louise acted as a liaison between the Palace and Lutyens and his team. Since she instigated the project, Marie Louise was without question the "most fit person for the post" said Queen Mary. For the next three years, the Princess was to write out over 2000 letters in her own hand on behalf of the project, and she often acted as hostess for the many 'dolleluia dinners' where Lutyens and the other participants gathered to discuss and plan the dolls' house.
Lutyens and his artisans approached the project as if they were constructing a real life house, not one at 1/12 scale. Complex technical drawings and sketches were made, and no details were overlooked. Consideration was even given to plumbing and wiring as the house was to be fully functional with running water and electric lights.
The dolls' house (measuring about 60 inches by 100 inches and at a height of approximately 60 inches) consisted of 4 levels with an underground garage. A Georgian façade was created complete with an adjacent outdoor garden. To allow the interior to be seen, the façade of the house was designed to be a movable outer shell or casing which could easily be brought up or down by gears hidden in the roof.
To furnish the house, very few objects were ready made, and virtually all the pieces had to be specially constructed. This was anything and everything: tiny household goods, appliances, furniture, books, toys, textiles, etc. "The only thing we could not reproduce was a telephone," Mary Louise said. The finest craftsmen in Britain were commissioned to make the necessary items. Often, the original manufacturers were called upon to make miniaturised versions of their products. The Brigg Umbrellas Company supplied little parasols and walking canes, while the Dunlop Rubber Co. Ltd., donated tyres for the miniature cars found in the garage. Supplies even came from as far away in the Empire as India; pieces of coloured marble were sent to England to decorate the house's interior. To give a familiar 'at home'feel, the Queen's own linen tablecloth was sent to Ireland to be faithfully replicated in miniature, as were the King's private dispatch boxes from his office.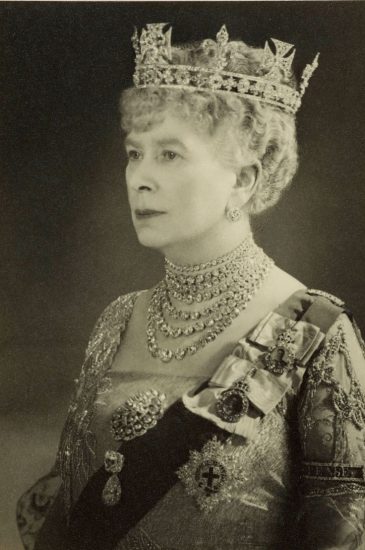 When it was completed, the house had over 40 luxurious rooms for a miniature royal family. As kings and queens needed servants, quarters were provided for them as well! Getting from one floor to another was not a problem as Lutyens even provided working electric elevators. The main entrance of the house led to a great hall faced with marble and decorated with small standing suits of armour. A library was also on the main floor. This area of the house was one that Princess Marie Louise especially had a hand in. She had personally written to scores of artists and authors requesting miniature artwork and books. Luminaries such as Sir Arthur Conan Doyle and Rudyard Kipling sent in handwritten manuscripts the size of a postage stamp. Not far from the library was a fully supplied kitchen (complete a small mousetrap!), and an ornate dining room which could seat 14 guests comfortably. Both the library and the dining room were hung with miniature paintings reproduced from originals in the Royal collection.
A marble staircase took the Lilliputian royals and guests to their rooms on the upper floors. The king's and the queen's suites were especially grand. No expense was spared in the décor – textiles were embroidered with the finest silk, and the walls and ceilings were painted with delightful mythological and natural scenes. As in the kitchen, running water was available in the bathrooms for the sinks, bathtubs, and privies. For washing up, there was embroidered linen with the King's and the Queen's cyphers.
Beneath the house was the wine cellar and garage. With his customary eye for detail and authenticity, Lutyens had the mini wine bottles filled with real samples and then marked with tiny labels photographically reproduced from the originals. The nearby underground garage housed six cars including a Rolls Royce. Cycling was another popular way to get about in the 1920's, and a bicycle with working brakes was parked close by.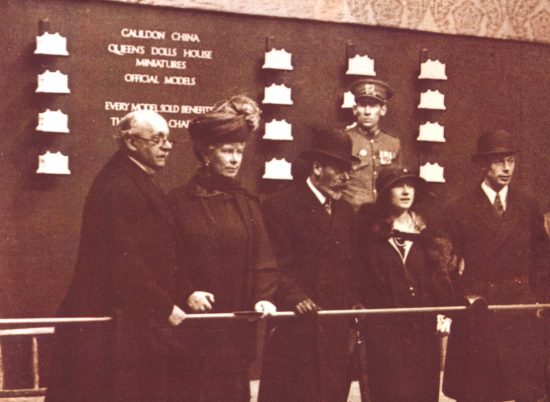 Queen Mary's Dolls' House was completed in time for the Wembley Exhibition of 1924 where over a million and a half people were captivated by the craftsmanship and care involved in making the house. "I only hope it brings as much pleasure, happiness, and interest to those who go see it as it did to those who created it", Princess Marie Louise wrote. Without a doubt, her wish has been more than realised. Today, the dolls' house can be seen at Windsor Castle where it continues to amaze and delight generations of visitors just as Lutyens said over 90 years ago.