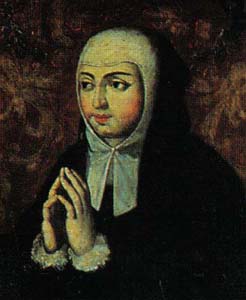 This is a guest article by Júlia.
Beatriz of the Avis Dynasty was Duchess of Viseu. She was born in 1430 as the daughter of Infante João, Lord of Reguengos and Isabella of Barcelos. She was also the great-granddaughter of Dom Pedro I and Nuno Álvares Pereira and of John de Gaunt, Duke of Lancaster. Through her sister Isabel, she was also the aunt of Isabel the Catholic.
Some call her the Queen who never was, as she played a decisive role in the consolidation of the Portuguese Monarchy in the Iberian space, due to her political influence felt through three reigns, her uncle Afonso V, her son-in-law João II (who killed one of her sons) and her son Manuel I.
It was through her that peace was made with Castile with the Treaty of Alcáçova e Terçarias de Moura when she met with Isabel the Catholic and discussed the terms, which would put an end to the "Beltraneja" war.
As a tutor of her son, she was part of the Order of Santiago and in this capacity, was also Governor of the Order of Christ, being the only woman to hold this position by appointment of the Pope.
She opened the way to the great glory of the Portuguese history in overseas expansion, contrary to the terms of the policy of the time of the reign of her uncle, she sent caravels on her own in the direction of the West, where they discovered the Antilles twenty years before Christopher Columbus. It was during the reign of her son that the way by sea to India was found.
She died at the age of 76 in 1506, and the curious thing is, although she was perhaps one of the most powerful women in Portuguese history, a resting place is not known.