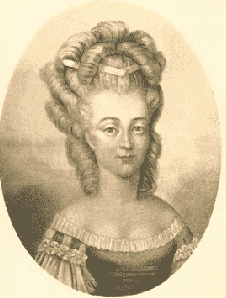 Bathilde d'Orleans was born on 9 July 1750 as the daughter of Louis Philippe d'Orleans, Duke of Chartres and Louise Henriette de Bourbon. She was the sister of Philippe Égalité, who was the father of Louis Philippe I. Her mother died when she was just eight years old. Her father's mistress convinced him to sent Bathilde to a convent.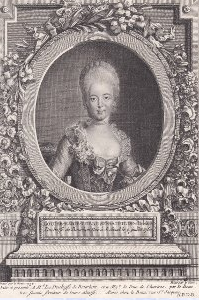 In 1770 she was finally allowed to leave the convent and marry her cousin, the Duke of Enghien, also the heir of the Prince of Condé. They married on 20 April at Versailles. Her husband was six years younger. She gave birth to a son, Louis Antoine, two years later.
Her husband tired of her rather quickly and they eventually separated in 1780. During her isolation, she had a relationship with a navy officer named Chavalier Alexandre Amable de Roquefeuil. She had an illegitimate daughter named Adelaïde-Victoire Demassy with him. Apparently, she passed the child off as the daughter of her secretary so she could keep her close.  The navy officer died in 1785.
After a little digging, I found that Adelaïde-Victoire married Joseph Antoine Gros and they had three children. Her eldest son was known as Baron Gros. It appears her youngest child Julie Marie Albertine Gros had issue and has descendants today.
Bathilde was miraculously spared during the terror, and she was sent to Spain with her daughter. She eventually died in 1822 after she collapsed during a march towards the Panthéon. She was buried in the Royal Chapel of Dreux.