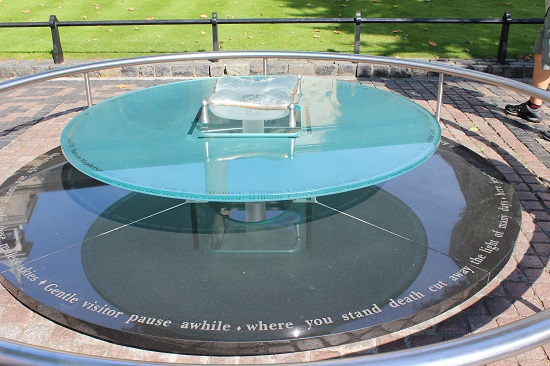 This article titled "Tower of London plaque marking beheadings 'in wrong place'" was written by Maev Kennedy, arts and heritage correspondent, for theguardian.com on Friday 19th January 2001 01.59 UTC
The plaque in the Tower of London, over the spot where three queens as well as an Earl of Essex lost their heads, is in the wrong place, according to a historian.
A previously unpublished account of the trial, last days and execution of the Earl of Essex have confirmed Geoffrey Parnell's hunch that the scaffold was not on Tower Green, but on the parade ground, about a hundred yards away outside what is now the home of the crown jewels.
Dr Parnell, the tower's official historian, blames Queen Victoria.
"In 1860 Prince Albert popped in for a visit, and said that his wife would be interested to come and see where Anne Boleyn was executed," he explained.
"She did come the following year, and obviously they had to have somewhere to show her. They seem to have hit on this spot because it was outside the chapel and it looked right."
He added: "The account of Essex's death makes it quite clear that the scaffold was on the parade ground, which was then – and still is – the largest open space inside the tower. We know there were crowds at some of the executions, and it was a far more suitable site."
The document, which gives a poignant account of the gallant end of the handsome favourite – and possibly last lover – of Elizabeth I, came from the collection of William Foyle, of the bookshop-owning family. The huge collection of manuscripts at Beeleigh Abbey, his 14th century mansion in Essex, was scattered at auction last year after the death of Foyle's daughter Christina.
Dr Parnell has published his research in the February issue of BBC History magazine, out today, to coincide with the 400th anniversary of the execution of Essex, in the early hours of Ash Wednesday in February 1601.
Essex, who had been sentenced to death for leading a revolt in Ireland against Elizabeth, put on his best black, crimson and gold embroidered clothes for execution, and was beheaded after a long prayer for the queen's long life. The account said the executioner "performed his office ill, strikinge thrice, howbeit after the blow neither armes, body or head ever stirred".
A Historic Royal Palaces spokesman, which runs the tower, said tourists had been told the executions happened "in the heart of the Tower of London, but we have never said they were all on one precise spot".
HRP will mount an exhibition on Essex next autumn.
guardian.co.uk © Guardian News & Media Limited 2010
Published via the Guardian News Feed plugin for WordPress.